The Post Quiz: Baking Quotes
Created | Updated Oct 18, 2015
If we can't bake, at least we can cheer the cooks on.
The Post Quiz: Baking Quotes
Even if you aren't baking for Create's October h2g2 Bake-Off, you can cheer them on by doing this quiz.
Fill in the blanks in these literary quotes about baking.
Baking is like washing: the results are equally _________. (Patricia Briggs)
Out of love I made you a _____. Also out of milk, eggs, flour, sugar, and vanilla. (Jarod Kintz)
Mrs Forrester ... sat in state, pretending not to know what cakes were sent up, though she knew, and we knew, and she knew that we knew, and we knew that she knew that we knew, she had been busy all the morning making _____-bread and sponge-cakes. (Elizabeth Gaskell)
Pecans are not cheap, my hons. In fact, in the South, the street value of shelled pecans just before holiday baking season is roughly that of ________ __________ . Do not confuse the two. It is almost impossible to make a decent ________ __________ tassie, I am told. (Celia Rivenbark)
Never promise to make _____ and fail to deliver on that promise. (Kate Lebo)
If you love ________ ________ pie, you are either Dolly Parton or someone who loves her. (Kate Lebo)
Love just doesn't sit there, like a stone, it has to be made, like _______; re-made all the time, made new.(Ursula K LeGuin)
Everyone is kneaded out of the same dough but not baked in the same ______. (Yiddish proverb)
A party without cake is just a __________. (Julia Child)
Short _______ will be generally used in the kitchen for roasting and baking, almost instantaneously. (Lee De Forest)
Click on the delicious-looking picture below to check your answers.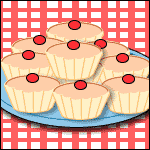 Post Quiz and Oddities Archive