42 Words: What Came First?
Created | Updated Aug 23, 2015
Some clown's got a lot to answer for, in 42 words.
A few weeks ago paulh started a journal asking for 42 word stories and poems. There have been a few submissions, and we thought you might like to read them. If you want to try your hand at it, we suggest you pop over to paulh's journal and add your own.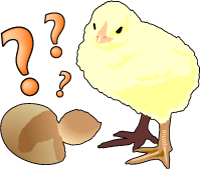 Transatlantic Chicken Migration Theory:
After learning of Columbus'
discoveries,
European chickens vowed to avenge generations of
executions and missing eggs by sending their best fliers across
the Atlantic.
Little did they know that they were dooming their
descendants, who became Chicken McNuggets.