July Create: A Short Admission
Created | Updated Jul 12, 2015
Pebblederook shares a brief, poignant moment from the past.
A Short Admission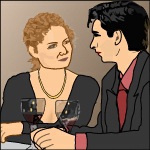 When I came back from Australia via New Zealand in 1976 I took passage on a ship called the Australis, which was previously called the Olympic and wasn't ever a sister ship to the Titanic. I was in a cabin next to the engine room with seven other guys. Next door was a cabin with eight girls in it. Naturally we got together (some closer than others). One of the girls was a Californian called Jenny. Halfway across the Pacific Ocean we discovered that it was her 21st birthday. I decided to arrange for a cake to be delivered to the table that evening and spent about half my remaining funds on a bottle of French Champagne.


It was a gesture, nothing more but she was touched by it. After dinner we went to the disco, I asked her if she would like to dance, she said she would rather walk on the deck under the stars, and I said, OK I'll dance with some one else.


Truly.

How thick can a human be? If I were granted one chance to go back into the past I would wish that I could go back to that moment so that I could walk on the deck with her under a Pacific moon. Nothing more.
Create Challenge Archive