42 Words: The Perils of Planet Hopping
Created | Updated Apr 19, 2015
Paulh tells of the dangers of other planets in 42 words
A few weeks ago paulh started a journal asking for 42 word stories and poems. There have been a few submissions, and we thought you might like to read them. If you want to try your hand at it, we suggest you pop over to paulh's journal and add your own.
The Perils of Planet Hopping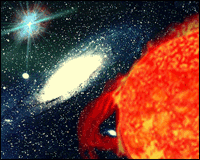 "Roger!" Eddy exclaimed. "How's Planet Homovulex?"
Roger grimaced.
"Your tan indicates great beaches."
"True."
"The food?"
"Sumptuous."
"What's wrong?"
"Caught a virus - makes men pregnant."
Eddy whistled.
"Got drafted next. Shrapnel wounds...morning sickness...misery."
"An extra hand, too. Looks useful."
"Maybe."