The h2g2 Post 22.10.12
Created | Updated Oct 21, 2012

Posted: 22nd October 2012

Birds, Beasts, and Humans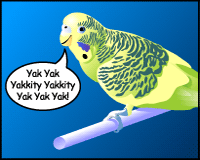 No, those aren't go-away birds. Willem's got the dope on them. Go-away birds say 'go away', at least in Afrikaans, and we don't say that. We say, 'Come on in and stay awhile.' We've got a worldwide tour for you: a church in France, an unbelievable tree in South Africa, a film from Iran, junk in space. . . you get the picture.

Pictures? We got 'em. Cartoons, photos, and real artwork. Inspiration for your next writing venture. And once you're inspired, Solnushka has a plea: get involved in the November journal-writing project. She'll tell you how.

Halloween is still coming. Have you bought your pumpkin yet? Do you know where your fangs are? Have you sent in your piece for the Post? A wink is as good as a nod to a vampire bat. . .

Deke's back on the Thames, Minorvogonpoet's following a goddess to a temple in an odd place, and the Prof and jwf, as usual, aren't sure where they are.

We hope you know where your towels are – it's quite a trip, and you've got your tickets.

Ignore that parrot. It swears.

BIRDS AND BEASTS


What's the difference
between man and ape?


The bird that says,
'Go away.'

OBSERVING HUMANS


Awix sees Iranian cinema.


 



Observe. Blog. We mean it.


Greatest observer of all.

THE DARK SIDE


 


 

GOING PLACES


Deke, back on the Thames.


A goddess visits Opryland.


 


 


 


 

FEEDBACK, SUBMISSIONS AND DISCUSSION


For submissions and editorial feedback



Chat about The Post with other

readers and the Team


The home of the h2g2 Post team