The Quest
Created | Updated Oct 2, 2002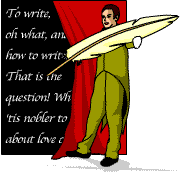 AUTHOR'S NOTE: This story is a work of fiction. (I think you've
probably read the disclaimer enough times by now, so I'm leaving it out. If
you miss it, you can find it at the top of this
episode.)
CHAPTER TWENTY-THREE
Yo gaped at the creation before him. He wanted it. He needed it.
He had to have it! But how was he going to get it out of the warehouse?
'I take it you like my machine,'
said a voice from behind him.
Yo whirled around and took a defensive stance against the unseen person.
It was an old man, leaning casually against the warehouse wall, watching Yo
with a vaguely mocking manner.

'Who are you?'
Yo demanded.
'No! Stop!'
sea threw herself across the trunk, slamming it shut. The pounding
began again, more urgently this time.

'You'll let it get away!'
Marv and Gw7en stared at her with wide eyes.

'sea, honey, I need to know what's in that trunk,'
said Gw7en.
'I told you, it's the purple cat. The one that hit on me. I wasn't
hallucinating. I'm fine. I don't need you guys here, you can go back to the
field and finish your tests.'
Marv leaned over to whisper in Gw7en's ear.

'On three,'
he said.

'One, two, THREE!'
sea yelped as Gw7en grabbed her and yanked her away from the car.
Simultaneously, Marv turned the key, opened the trunk, and looked
inside.
'Oh my God...'
The old man tisked at Yo, crossing his arms.

'Now, now, there's no need for nastiness or hostility. I mean you
no harm,'
he said, grinning.

'It certainly took you long enough to get out of those ropes. Shazz
is a good villain, but she ought to invest in a knot-tying class or
two.'
Yo dropped his upheld arms but remained wary. He narrowed his eyes at the
old man.

'I didn't see you running to help me.'
'Of course not,'
the old man replied.

'One can learn a lot from how a man escapes capture. My name is
Arlecchino. How do you do?'
Yo was unsure of how to react. He shook the man's hand, still watching
him carefully.

'Yowuzupman. Nice to meet you, I think.'
The old man nodded.

'Likewise. Now, where do you want me to put the machine?'
'I beg your pardon?'
'The machine,'
the old man said patiently.

'It's obvious that you want it. So take it. Where shall we put
it?'
Yo stared at him.

'I'm sorry, I thought you just said...'
'I did.'
'Oh.'
'So where shall we put it?'
Yo sighed as he recalled the circumstances under which he arrived here.

'That's a very good question.'