Sporting With Egon
Created | Updated Apr 1, 2004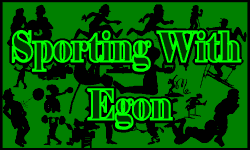 Some stuff happened this week, but to be honest,

it didn't really grab my imagination.
France won the Six Nations Rugby, with Ireland picking up

the Triple Crown and England finishing third mere months

after being crowned World Champions. Oh, and Virender Sehwag,

a reliable if usually unemarkable batsman, became the first

Indian cricketer to score a triple hundred, as his team

sauntered to an easy victory over Pakistan in the first test

the two nations had contested on Pakistani soil in fourteen

years. What else? Oh, well Roger Federer, the world's number

one tennis player, suffered a straight sets defeat against

Rafael Nadal, a 17-year-old Spaniard whose main claim to fame

is that his uncle used to play football for Barcelona.
But none of that has really captured me this week. What

has captured me is FIFA Magazine, the official

magazine of the Federation

of International Football Associations, which I bought

the other day along with the FA Cup Semi-Final preview

special of the Sunderland Echo.
FIFA is celebrating its 100th anniversary this

year and, as such, the magazine includes a large number of

features on the history of the game. One that took my fancy

was an interesting bit about how the linesmen were initially

umpires running around on the pitch who gave the decisions

and, if they disagreed with each other, they would refer the

matter to the referee (hence the name) who would be standing

by the sideline, often in a top hat and carrying a cane or

umbrella.
They should bring that back! You'd have much less of this

referee-baiting if any player arguing got whacked with the

cane! It'd be fantastic.
I was also interested to read that, originally, the

goalkeeper could handle the ball anywhere in his own half of

the field and that way back in the mid 19th

century, all English schools played football in different

forms, making up their own rules (Rugby school had some

particularly famous ones, I recall). It was only once players

got to university that they realised they all had different

rules. So Cambridge University drew up some rules, and

everyone used them except awkward g*ts in Yorkshire who used

the Sheffield rules (you don't hear the phrase 'Sheffield

Rules' often in football anymore, do you?). And that was why

the FA was formed, to standardise rules and shut the

Yorkshiremen up. And then other FAs were formed to decide

rules for internationals and then they formed FIFA as big

boss people. Fascinating stuff, I'm telling you.
Oh, but FIFA Magazine gave me some more modern

stuff to ponder as well.
Like the fact that Brooklyn Beckham, five-year-old son of

England captain David, is playing in the youngest age group

at Tottenham Hotspur, a club who turned Daddy down. Yup,

that's right, Spurs turned David Beckham down for a contract

as a youngster and now he's captaining England and playing

for Real Madrid.
Which actually raises quite an interesting question. Would

Beckham be the player he is today had Spurs signed him rather

than Manchester United? Would he have received the same kind

of training and guidance at Tottenham and, if not, would he

be anything like the player he is today? Interesting points

to ponder. I don't know the answer of course.
Another feature in the magazine was about the African

countries, one of which will host the 2010 World Cup, and

there were little guides to the countries - which appeared to

have been copied from an Encyclopaedia.
I really hope Libya don't get it. Not only am I not a big

fan of Colonel Gadaffi, but Libya is the only of the

contenders1 not to have any professional

clubs, a website - either for the government or for the

FA2

and the only one not to have any World Heritage

Sites3. It

didn't even have a football association until the 1960s; the

only more recently formed association in contention is South

Africa and that's only because they re-formed the association

at the end of apartheid).
Also, Libya has an awful flag. It's green. Just green.

Seriously, it's a big green block. Nothing else on it. No

national symbol, no natty stripes, no stylish adornments,

it's just green.
Oh, and the b*****ds beat Sao Tome e Principe 8-0 in a

World Cup qualifier. I like Sao Tome e Principe, purely

because one of their players, young midfielder China - real

name Oswaldo Soares Brito, plays for Naval in the Portugese

lower divisions - is great and cheap on the football game

Championship manager.
Also in this fascinating publication4 were

the details of 2006 World Cup Qualifying - and aren't

Colombia doing badly?
Now, almost every region has FIFA members who have not

enrolled for qualifying, so the entrants number is fewer than

members. For example: 'Asia - 44 members, 39 enrolled'. And

what did Myanmar do to get excluded? Asia and Africa are

missing a few teams each, all ten south Americans enrolled,

North/Central/Caribbean America is missing Puerto Rico,

Europe officially lacks Germany, as they qualify as hosts,

and thus don't have to enrol in qualifying.
The odd one's Oceania: '11 members. 12 entries'.
Huh?
Turns out they've let New Caledonia in, despite them not

being members of FIFA. Nice of them.
Oh, and elsehere in the magazine, I discovered that US

veteran Alexei Lalas, who just retired, has been made

president and general manager of the San Jose Earthquakes, a

team he had previously had nothing at all to do with. And

he's had a shave and a haircut, which those of us who

rememeber him as the crazy-bearded centre-back from the 94

world cup and Italian Serie A are shocked by. You know, of

course, that he's also an accomplished rock guitarist and

once suppported Hootie and the Blowfish on tour.
Anyway, that's way too much from me. Sorry for rambling

on. But if you see FIFA Magazine in your newsgents,

buy it. It's fascinating. And it tells you where the idea for

red and yellow cards came from.
Several A/K/A Random's 'sporting

blues'
Well, and let's see, what to write about in Amsports this

week, what to write... the Men's College Basketball

tournament is getting all the ink and bytes, along with Major

League Baseball starting up with the season opener between

the Noo Yawk Yankers and the Tampa Bay Devil Rays over in

Tokyo, so I think I'll start with Women's College

Basketball.

The 30-3 Duke University Blue Devils face the University

of Minnesota Golden Gophers, while the Stanford Cardinal (not

the Cardinals, the Cardinal, for some reason) meet the

Tennesee Lady Volunteers (29-3) in the finals. Duke and

Tennesee are past champions and are perhaps the premier

programs for women's basketball.

Interestingly, a study released last week shows that 14 of

the top 16 women's teams have graduation rates of better than

50%, and some are in the 90th percentile, as opposed to the

men's programs, which has six teams graduating less than 50%

of their athletes, with a best of 80%. My theory about this

is that the boys are out chasing the girls that don't study,

and the female athletes know they had best get an education

because, out in the Real World, there is still, sadly, a 20%

difference in men's and women's earning power.

But that's not sports.

Okay, how about 14-year-old Michelle Wie placing fourth in

the Ladies' Professional Golf Association's recent tournament

? She wishes to get a scholarship for college, so she isn't

allowed to take the money she could have won. Meanwhile,

14-year-old Freddy Adu will make his debut this weekend with

the DC United pro soccer team, earning over $1 million

between his shoe endor$ement deal and hi$ $alary. I guess he

can hire an education.

And some other things you won't get from the major media:

the Mexican pro soccer teams Guadalajara Chivas and Morelia

Monarcas played and exhibition match in San Jose, California

that drew over 20,000 rabid fans, one of 50 such exhibition

games the Mexican League has scheduled in southern US cities

that have a large Hispanic populace. Aided by television

coverage by the new Fox Sports En Espanol teevee network and

sponsored by El Mexicano, distributors of Mexican cheese,

yogurts, jalapenos and other products to the US markets,

Mexican soccer draws better crowds than the American Major

League Soccer teams, which is why Freddy Adu was hired to

play pro.

Chivas, owned by Jorge Vergara, has been awarded a new MLS

franchise but will only be allowed to import three of its

players into the American pro league. Vergara is hoping for a

stadium in San Jose, California, while the other MLS

franchise is tentatively slated for Cleveland, Ohio. Mexican

League players can earn, on average, $50,000 a month, while

the American pros average closer to $50,000 per year, Freddy

Abu notwithstanding.

Also in the news are reports that Major League Baseball

will agree to Olympic drug testing standards for the proposed

World Cup baseball tournament... actually, the Player's

Association (which is really the player's agent's

association) will let any of its members who are clean

participate, as long as insurance can be obtained to make

sure the agents get their 10-15% off the top of the players'

pro contracts.

And on that note, I shall conclude the Amsport portion of

Sporting With Egon and, unfortunately, none of this is April

Fool's. This is several, a/k/a random, over and out.
Have Your Say
If you would like to report, opine or rant on matters

sporting as I and Several do here, then just drop me a line

at my personal space, or comment below. Also comment below if

you would like any elaboration or further explanation of any

of this week's stories.
Egon

with Several a.k.a. Random 




1The others being South Africa, Egypt,

Tunisia and Morocco.
2I like that sort of thing in a host.
3because we all know that's what football fans

and players look for in a country, don't we?
4Do you think

I should get paid by FIFA for all this promo?