A Life on the Ocean Wave: Madeira
Created | Updated Jan 31, 2011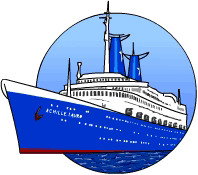 Hello. My name is Emma and I go on cruises. Mostly, so far on P&O ships out of Southampton, but other perfectly good cruise companies are available. ;-) When I can, I con my parents into paying for my ticket.


When I travel, I blog. If you would like to read it all, it can be found at my PS. The Post have asked me to proffer some edited highlights of my ramblings, which I shall now inflict on you forthwith. Enjoy.

Madeira and the end
It rained. No, that's not really sufficient. What with gale force winds AND rain, it was, without a shadow of a doubt, the worst weather of the whole cruise. It was easily possible to comprehend how a place we considered a warm, sunny, almost tropical island, could experience such flooding that over 50 died. It fell down. But, troopers that we are, we weren't going to let that get in the way of a good time. Dear me, no.


It was actually warm and sunny when we disembarked and queued for the shuttle bus. But the second the bus parked in town and opened its doors, the heavens opened. We legged it to McDonalds (the nearest shelter!) and then grabbed a cab. Our driver, Ricardo, drove us up through the town, pointing out the bridges damaged by the flood waters and then out around the west of the island to a beautiful fishing village called Camara de Lobos (the cave of the seals). This is where Churchill used to come to paint. Yes, that Churchill. The restaurant where we ate is where he sat on the balcony and painted the harbour. Preumably in better weather, though…


The service in the restaurant was lethargic, to say the least, but the owner was friendly and the waiting staff (literally) were very obliging and we were in no hurry to go back out into that weather (although it was trying very hard to come in through the windows!), so we sat and chatted with Ricardo for a couple of hours. He used to live and work in Guernsey, so his English was superb, which helped, because our Portuguese is non-existent!


When the food did come (the delay was caused by them making the vegetable soup from scratch), the portions were huge and it was all delicious. I managed less than half of my lamb, which was heartbreaking because it was so yummy. We couldn't possibly have eaten dessert, which was a shame, because the dessert trolley looked amazing. Oh well, can't have everything!


Camara de Lobos is a beautiful little village and we had a look round before heading back towards Funchal. Ricardo dropped us at a shopping centre, because we were in a European country so we HAD to find the C&A! Oddly enough, the architects weren't aware of Madeira's propensity for rain because, even inside the mall, the roof was only a sort of mesh, so it was just as cold and rainy inside as out, although the wind was less. Very odd. Anyway, we found C&A and did our economic duty and then Ricardo drove us back into town. We visited the Dolce Vita mall, which has a coffee bar made to look like a giant grand piano. Dad went to the giant electronics store and bought a new camera. Trust him to only twig his was dying the day AFTER we left Japan…
Then we pootled sights and shops until it was time for us to go to Reids Palace, where I had booked a table for dinner in their Italian restaurant, which overlooks the bay. Needless to say, we sat indoors. After a ludicrously civilised meal, we returned to the ship and crashed out.
We were in Madeira from noon til noon, so the next day, mum and dad got up (into blazing sunshine, I kid you not) and went to see the Festival of Flowers. They had laid flower carpets all down the centre of the main street. I stayed in bed. When we sailed, we began to realise just how big the island is, and just how little of it we've seen, despite our many visits. The eastern end looked particularly rugged and magical. Oh well, that's for next time, I guess. There was a sailaway party on deck and several people were in tears as it started to dawn on them that the next time they saw land, we'd be home. SO depressing. It's really all over. I've been depressed for days, but now it's even worse. Nothing more to look forward to, whatsoever. My mates are sending me emails asking when they're going to see me, trying to fix dates. I don't wanna!
On the plus side, however, we had been told that UK immigration wanted to come on board and do face to face interviews before Southampton. Really? I now have to do one of these poxy things to get into MY OWN country?! Seriously?! However, just to show that every ash cloud has a silver lining, they couldn't fly to Madeira to join the ship (neither could Bobby Davro), so that had a happy ending then.
The packing is a nightmare. Every time I think I'm done I realise there's a whole other cupboard/drawer to do. It's never-ending. It's not going to all go in. I'll have to buy another bag, just for the blinking presents. Do you have any idea how much space a singing goat takes up? Granted, that's for me, but still, you get the point.
Luckily, the sea has been like glass. Even the Bay of Biscay and the Western Approaches, which is very unusual indeed. My friends on the Arcadia went through a few days before and sent me an email to say that they had had lots of bumps but they had ironed out most of them for me. And they were right. The Bay of Biscay was like a millpond. We took photos, it was so flat. No one would believe us otherwise! People tend to get off or on in Spain or Madeira and fly the last bit to the UK, just to avoid the Bay, so you can see that it is usually rather rough. Not this time. Cosmic payback for Madeira trying to blow us clean off the island, maybe.
And so, the end is near, etcetera etcetera and so forth. It's always hard to know how to end these entries. Do I say goodbye? No, firstly because you'll never come back and secondly because I do post sometimes from land! Honest!
Goodbye Aurora, you've been a wonderful home and we'll all miss you dreadfully.
Right, now, what do I do with 8,209 photos?
A Life on the Ocean Wave Archive