360 - Changing the World by Degrees
Created | Updated May 22, 2006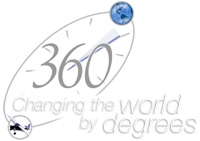 Latest news from 360 -
Changing the World by Degrees.
The legendary 360 microlight plane has finally surfaced (wrong phrase!) from its initial testing and Richard has now flown it himself for the very first time. You can see the video on A775389. Once the rest of the testing (20
hours) is completed, Richard will be able to fly around the UK - and, once he's braved the sea, abroad, to film 360 projects for the net.
Saving the World from Your Living Room has some interesting chats going on including attitudes towards expensive environmental stuff and whether you can actually change the world from the grass roots or whether it takes action at a higher level.
Further Resources has a discussion about money and LETS systems - and Alchemist has an interesting thread about Alchemy on his site which can be linked to from there...
AstroLion is doing free astrological charts as a part of 360 Holistic Health, there are some good chats going on in the Rites of Passage section there too and a spirited discussion at On being watched - for having
concerns for the planet - is well worth a visit.
There is an interesting article on Hope - it's one of 20 articles now
posted in the 360 community discussion group.
Changing The World By Degrees Archive