Sporting With Egon
Created | Updated Mar 19, 2004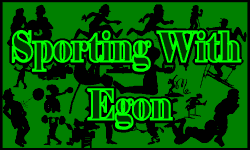 This week's column comes to you from Sunday's play at New Road, Worcester in the cricket match between my boys Worcestershire and fellow midlanders Northamptonshire.
He's human, then
Tiger Woods proved his fallability on Saturday with a round of 81 at The Open. Looks like Ernie Els is going to win. Monty's blown it again.
SUPER SUNDAY
Having already been to Friday and Saturday's play, I've decided to write the majority of this column while relaxing near the bar at the Diglis End. Northants' captain Mike Hussey has already demonstrated in an innings of 174 that there are few more pleasurable cricketing experiences than watching Australians bat. Following centuries by Ben Smith and Vikram Solanki, Worcestershire bowlers Matt Mason and Andy Bichel demonstrate that, in Australia, even the bowlers are exciting with the bat. Northants come in to bat in the afternoon with a lead of around 10
As Northants make a terrible start, I get some very interesting sporting news from the guy behind me with the WAP mobile phone. Apparently, Lee Bowyer's move to Liverpool is off, as they don't think he is committed enough, while Rio Ferdinand has finally joined Man Utd for the best part of £30 million
A spectacular bowling display, not only from fast bowling trio Mason, Bichel and Sheriyar, but Medium pace all-rounder Dave Leatherdale, sees Northants dismissed for just 77, English crickets's lowest score of the season. And Michael Schumacher's won Formula 1 again. My friend with the phone also assures me that Els is a shoo-in for the golf, and having watched Ben Smith and Graeme Hick guide Worcestershire to an 8-wicket victory, I return home to watch Ernie's victory parade.
Upon returning home, I discover that Ernie's victory parade has been delayed on the spurious grounds that he hasn't won yet. He's in a play-off with two Aussies and Frenchman Thomas Levet. After a four-hole play-off, and a sudden death play-off Ernie Els finally wins.
Egon