The Living Earth
Created | Updated Jul 17, 2002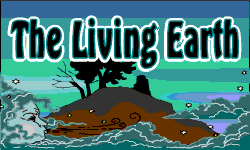 Not That Harmless...
Did you know that in the last 3 weeks alone, there
have been 4 major wildfires, 6 major floodings, 3
significant earthquakes, 3 tropical storms and for
good measure, a near miss by an asteroid as big as a
football field? Our home planet is not half as safe as
we would like to think...
Furthermore, our home planet is extraordinarily
fascinating. In the last 4 billion years, it has
provided natural environments for all sorts of strange
creatures, nearly destroyed all life there on many
occasions, while playing host to numerous, immense
cataclysms along the way. It is continuously changing
- sprouting new land in some places, building mountain
ranges in others, while elsewhere, fertile areas
become deserts and the seas reclaim areas of dry land.
What's even more interesting is that we know so little
about it all!
I set up the Living Earth Society to bring together
people who are interested in the origins of our
planet, who are awed by the powerful forces affecting
it, who love the natural formations in the many parts
of the world, or for no other reason, just love and
respect our planet.
It's an Earth Science page at its core, where we bring
together the sciences of climatology, geology,
palaeontology, oceanography, and a couple of other
'ologies' as well, so anybody with an interest in
these areas are most welcome to come and contribute.
But, you don't need to be an expert at all to join,
and we already have quite a few people with a wide
range of interests signed up to the group.
I trawl the web regularly to report on natural events
around the world. I also look out for scientific
reports which help us understand better the world
around us. I post links to the relevant articles so
that people can be kept up to date.
My own interest in this arises from being in Turkey
during the huge 1999 earthquake. It's an experience I
will never forget and, as I have found out, quite a
few researchers also have witnessed similar events. I
am compiling their accounts in the Researchers'
Experiences page, which can be accessed off the main
page.
If anybody has entries in Peer Review on an Earth
Science/Phenomena topic, I would be glad to promote
these articles on the page.
If anybody has suggestions on topics they would like
to see in the page, I am keen to know, and I will see
what I can do1.
So, please come along to the Living Earth Society, and
sign up! Lots of people from around the world have
joined already, and you will be made most welcome!
1They may also appear in The Post as part of this occasional column.