360 - Changing the World by Degrees
Created | Updated May 22, 2006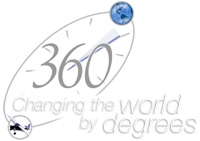 Latest news from 360 -
Changing the World by Degrees.
The Holistic Health site on 360 Changing the World

by Degrees is currently discussing meditation, healing, aromatherapy, Chinese medicine and homeopathy.
One of the most popular threads Healing or Hokum? got onto the subject of whether it's right to charge for healing. So now we have a new series of articles examining The Spiritual Laws of Prosperity.
On the main site, Action Madagascar have started a press release workshop so people can learn how to write the best and most arresting press release to publicise their work here.
And there's an aromatherapist threatening to punch a beagle...but you'll have to find that one for yourself!
Changing The World By Degrees Archive