45 Words
Created | Updated Apr 10, 2003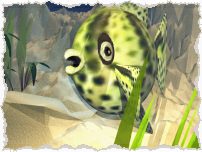 Due to last weeks break, we have two 45 Words for you this week. The first was due to be published on 16th May 2002, and should be read with that thought in mind.


Twelve years ago last week Kermit the Frog's creator and voice died of pneumonia. So today we look at the man who 'made it happen, on the Muppet Show'.
Jim Henson 1936-1990
Loved television since schooldays.

Disliked puppetry but saw a way into TV.

Started Sam and Friends with fellow student, later wife.

Muppets were lifelike and sensate.

Started to appear on Today show, Sesame Street and

theatre based Muppet Show with big stars of the day.
This weekend 25 years ago a certain little sci-fi film by a relatively unknown director premiered. It has since vanished without trace, or then again maybe not.
Star Wars 1977
A long time ago in the Tunisian desert

George Lucas started location shooting 'Star Wars A New Hope'.

His special effects revived the whole genre of science fiction.

The adventures of the Skywalkers, Empire

and the Jedi continue to this day.

With more to come.