I Couldn't Care Less: Death by a Thousand Cuts
Created | Updated Oct 10, 2010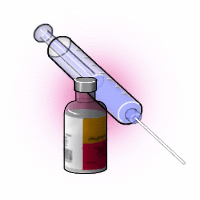 Death by a Thousand Cuts or A Knife in the Heart
In my previous cheery diatribe on the joys of caring, I alluded to the fact that, for me at least, much of the time it is many small things that contribute to the overall effort. A typical day might mean that I get up and my wife has overslept so I have breakfast by myself, do the washing up and meander off to work. During the day I get a text message asking me to pick up something heavy, so I bolt my lunch, dash into town, make the purchase and dash back to work in time for my lunch break to be over. At the end of the day, I take the heavy thing home, pausing on the way to do any additional heavy shopping.
I get home, have tea and massage my wife's feet until the pain makes her fall asleep. It's about nineish, she's asleep on me so I'm confined to the sofa until I wake her up and help her to bed. Then off to sleep myself.
Poor baby. It must be awful. Well of course it isn't awful, but it's endless, unsupported, untrained, unpaid extra work to add to the full week you have already done. Nobody tells you how to do it so you bugger it up as you go along, and sometimes it can be tiring, trying, and isolating. Being disabled can be lonely, I know, but being a carer can, to, if you're not careful.
Anyway, I promised you a knife through the heart in my merry title (which may well get reworked in editing) so here it comes. Most of the time caring for me is a drudge, but once in a while it's a landslide. Over the Christmas period my wife got pretty badly ill. She was being sick constantly, couldn't keep anything down and nobody seemed to be able to stop it. She was weak, scared, dehydrated and getting worse and worse. I got called home from work early one day to call out a doctor. The doctor sent us to hospital and this led us through a chain of events which involved three extended stays in hospital, two further trips in ambulances and a lot of failed attempts to get the right medication. On several occasions my wife needed help to get to the bathroom and I had to more or less haul her semi-conscious form to the sink. One day I misjudged my footing and she fell on top of me, hurting both of us more than I was entirely happy with.
It was scary. Not only did I not know what was wrong, neither did the doctors, or the paramedics, or even the consultants. It actually still isn't technically better yet, it's just under control. And the first time you go from peering out of your window to wonder what that ambulance is doing in the street to peering out of the window and giving thanks that the ambulance is finally here, your life has changed. And to make it worse, there's sick on your shoes.
Articles by benjaminpmoore Archive