We're Throwing Down the Gauntlet
Created | Updated Oct 5, 2010
Save the World in a Thousand Words
Welcome back from summer break, Hootooers.

The Post has been on re-runs – a grand tradition, allowing you to catch up on the
year's highlights while we writers enjoy, ahem, a bit of a respite (no, it's not writer's
block, I'm just resting my fingers) and catch up on the important news, such as where all the
really cool UFO sightings were in Britain this summer.

Oh, and forget all the GuideML we ever knew. (What's this ndash thingy for again,
Bel?)

Now we're back, ready or not, and rarin' to go. You'd better be, too.

This isn't just a reading site, you know – it's a writing site. And we expect you
to pull your weight.

Read on.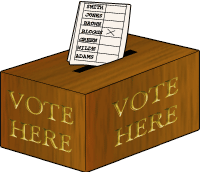 During the summer hiatus, a lot of Hootooers were on holiday in exotic places. (Yes, we
expect pictures, so we can envy you.) Others, such as moi, were still writing away
(although sneaking away from the laptop to go bother some dragonflies and toddlers at the
pool), or, like Malabarista, slaving away in Re-enactor
Land (you were arrested as an illegal alien how many times? You called the museum
worker a potato-eating what?). Now that you're back, we want to put you to work.
Yeah, work. Some of you remember the concept.
Those of us still gathering around the journal water coolers when the shadows lengthened
have spent the last six weeks chatting (carping, really) about The State of the World. We had
all the usual complaints – War, what is it good for? Why global warming? Why does
everything happen to me? Why Billy the Exterminator? We came up with some pretty good
answers, too. Hypatia, our beloved President, believes
that people should be kind to animals, tidy (and stop chewing library books), and gluten-free.
Bel, our watchful editor, points out that the human race
has learned some lessons, but needs to learn more. Willem, gifted artist, wants us to stop and appreciate the beauty
around us (and inside our heads, thanks for the music links, Willem), while Elektra just wants those pesky insects to go away from the
screen porch ("Darn! My shootin' iron's out of ammunition. Back to the water faucet.")
Prof Animal Chaos had the most original
suggestion: He blames the current unrest on the planet on instability in the earth's
electromagnetic field, a precursor to the Great Polar Shift. Thank you, Prof: a copy of my
patented tinfoil hat is on its way in the mail.
Okay, so we haven't solved the world's problems. It's not for lack of trying. But it
occurred to us that you – the readers and writers of h2g2 – possess the talent,
the savvy, the drive, and above all, the communicative ability to make a stab at our most
pressing human issues. So here's what you do:
Choose one thing you think the world needs – love, a good laser defence
system, a really good recipe for pecan pie – and write about it:
An essay or short story (not more than 1000 words).
A poem, or reasonable facsimile thereof), same limit.
A drawing, sketch, or cartoon, no limit on the number of brushstrokes.
We promise to publish everything we receive, as long as it abides by the usual rules
– gets past Auntie Beeb's naughty filter, doesn't violate copyright or the Treaty of
Guadalupe Hidalgo, etc. Just send it on the

.
Help us out, here. We know the planet is mostly harmless. It's the "mostly" part we're
worried about.
We can't give out the Nobel Peace Prize, or even free passes to the museum of your
choice. We can just give you the usual virtual kudos. But who knows? You might inspire the
next generation of leaders to find some solutions.
And next summer, we can all bask at the pool, secure in the knowledge that we have
brought peace, freedom, and reasonably priced pizza to the galaxy.
The Post Gauntlet Challenge Archive