The Peta's - Award Ceremony
Created | Updated Apr 10, 2003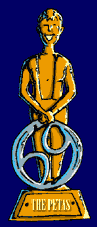 The lights go down on the auditorium, as once again
the h2g2 Academy presents it annual award
ceremony.
Demon Drawer enters
stage left
Ladies and Gentlemen welcome to this the second
annual H2G2 Academy Awards and what a year. We've had
films with Wizards and Wizard Schools. Films all in
French, or set in France starring Aussies and Scots,
(winks at Nicole and Ewan). Animation that is
threatening to give actors a break from make up calls
at 4am. So without further ado lets get on with the
show.
Best Actor in a Supporting Role
Fashion Cat enters
wearing a long black leather skirt, a long black
leather coat, and an angelically white ruffled shirt,
with shining golden wings.
All sexy men, who all deserve to win. Colin was
marvellous in Bridget, Jim was fantastic in Bridget,
Moulin Rouge and Iris, Robbie was so Hagrid, Eddie
Murphy - what an ass! Samuel L ever unbreakable and
Sir Ian finishing off with a bang. So which sexy man
has scooped up Peta... I mean the Peta this year? Here
are the nominees in full.

Robbie Coltrane for Harry Potter
Steve Buscemi for

Colin Firth swoon in Bridget Jones' Diary

Eddie Murphy for Shrek

Ian McKellan for Lord of the Rings: Fellowship of the
Ring

Jim Broadbent for a variety of roles

Samuel L Jackson for unbreakable
FC snaps her fingers and a golden envelope appears,
hovering in mid air beside her. It open itself and the
card appears.
And Peta gets to cuddle up to...Jim
Broadbent
Best Song
ShazzPRME teeters onto the stage wearing impossible high heels and a slinky electric blue dress split to the thigh.
It gives me enormous pleasure to be asked to present the award for
Best Song on this auspicious occasion.
Throughout my long and varied career as a musician
and teacher I have always followed the current trends
in cinemagraphic songwriting. I exalted in all the
songs from Jungle Book, sang along with Raindrops Keep
Falling on my Head, was pleased for Mr Elton John when
The Lion King triumphed and cringed when Celine Dion
warbled endlessly about a sinking ship.
Thankfully, the award this year goes to a worthy
winner. So, without further ado... fumbles with envelope... I award this coveted
Peta to Enya for May it Be which
featured in the film Lord of the Rings
Best Supporting Actress
It was a year for Dames and with one in both
supporting and leading actress categories it may be a
really good golden jubilee.
The Peta for best actress in a supporting role goes
to ...Helen Mirren for Gosford Park.
Best Technical Achievement in Audio
Arts
This is one of the academy's new awards. The
members were split between two outstanding films in
this field. The musical that is 'Moulin Rouge' and the
canopy of sound that backed up the visual feast of
Lord of the Rings. Both worthy contenders for this
prize, however there can be only one winner, and the
Peta goes to...
Moulin Rouge
Best Technical Achievement in Visual
Arts
Ladies and Gentlemen, Balrogs and Beasties.
I stand before you, in
this glamorous - can-can dress? - to present the award
for Best Technical Achievement in Visual Arts (and
what a mouthful that is to get out!)
Audience laughter
In a new category for the Petas, rivalry has in no
way overstepped the bounds of decency.
*blushes at what her dress is doing*
Ahem.

So without further ado:

The Nominees are...

Shrek

Monsters Inc.

Lord of the Rings: Fellowship of the Ring
And the first h2g2 Academy Award for Best Technical
Achievement in Visual Arts ...(deep breathe, rips
envelope)...goes to Lord of the Rings.

Best Director
Sadly the academy overlooked the work of our great
directors in our first awards ceremony, so it probably
was because of that that Stanley Kubrick picked up the
award for Lifetime Achievement to rub our faces in the
clockwork orange stains. However this category was
hotly contested. Peter Jackson spent years getting
Tolkien's masterpiece to the screen. David Lynch
produced another masterpiece of his own. Baz Luhrman
turned to the tradition of musical. Joel Coen went
back to Black and White. Speilberg finished off
Kubrick's last vision. And Alan Altman did a period
who dunnit.
However the winner of the Peta for best director goes
to Pete Jackson for Lord of the Rings
Lifetime Achievement
A dapper-looking Bluebottle steps up to the podium.
And the voting for the Lifetime Achievement Award
this year is so close that the academy has decided to
honour two worthy recipients, among those voted for we
have:
David Lynch, for directing such classic
films such as 'Dune',
'Blue Velvet', 'Twin
Peaks', 'The Elephant Man', 'Straight Story',
'Lost Highway' and 'Mulholland Drive'
Sean Connery, for not only acting in
his James Bond films, but
others such as 'Indiana Jones And The Last
Crusade', 'Highlander',
'Robin Hood: Prince Of Thieves', 'Marnie', 'The Man
Who Would Be King' and 'The
Untouchables'.
Christopher Lee, the quintessential
Dracula, who also has acted in 'The Lord Of The
Rings', 'Star Wars: Episode II: Attack Of The
Clones', and has played such characters as
Rochefort, Fu Manchu , Sherlock Holmes, Frankenstein's
Monster, Scaramanga in 'The Man With The Golden
Gun', and even Death for Terry Pratchett's
'Soul Music'.
Luc Besson, the French director of
films such as 'Leon', 'The Fifth Element' and
'Nikita'.
John Williams, the composer of most of
America's film music, including 'Star Wars',
'Indiana Jones', 'Jurassic Park', 'Jaws',
'Superman', and 'ET The Extra
Terrestrial'.
And the winners are....1
A tie between David Lynch and Christopher
Lee!
Best Actress in a Leading Role
Five really great performances caught the attention
of the academy. One of them even managed to compete
only in French, one shared her character with another
actress. One sang her way through the role. Whilst the
last piled on the pounds for authenticity.
The nominees are

Dame Judi Dench
Nicole Kidman
Laura Linney
Audrey Tautou
Renée Zellweger
And the Best Actress Peta is awarded to Nicole
Kidman come on up with your high heels on.
Best Actor in a Leading Role
Fords-Prefect steps up
to the podium
In the past year we have seen some fine
performances from some great actors, and the return of
some of some of our old favourites, people like Jack
Nicholson and Gene Hackman. And this year, the Oscar
for Best Actor is going to someone who has worked hard
over the years and is up there with the best of them
but has been overlooked for far too long.
So without further delay lets take a look at the
nominations.

John Goodman

Billy Bob Thornton

Kevin Spacey

Will Smith

Jim Broadbent

Elijah Wood

Tim Wilkinson

Ewan McGregor

Russell Crow
Silence - followed by tumultuous applause... but who is it?
Will Smith!
Best Picture
Our final award is for the best picture itself. As
you have seen already there was a lot of talent around
this year so here are the nominations for the best
Pic.
Lord of the Rings
Momento
The Man Who Wasn't There
Amelie
Iris
Tocatta
Moulin Rouge
Gosford Park
So the Best film of 2001 and the Peta goes to
.....Lord of the Rings: The Fellowship of the
Ring
That concludes our awards for another year, look
out for the awards again next year and get your chance
to vote. Thanks to all who voted this year, you've
been great.
1Gets out the same
knife as last year, and opens the
envelope