For Sale (o.n.o)
Created | Updated Aug 8, 2010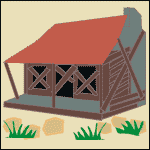 Under New Instruction From Vendor ("Get us our money, or else!")
Rare opportunity to join close knit (in-bred) and free-spirited community (police no-go area) in unique location (Hell on earth).
Area is renowned for its youthful (hoodie-plagued) and vibrant night-life (looting and drive-by shootings a regular occurrence).
Compact (tiny) yet well proportioned (no, really tiny) link villa (terraced house) in Tudor tradition (no gas, electric, running water or toilet).
Vacant with airy open plan layout (derelict), but in need of some updating (and possibly condemned).
Quirky (IRA dirty-protest) décor with many original features (impractical).
Property surrounded by mature gardens (impenetrable, condom-strewn jungle) offering a haven for local wildlife (tramp living in shed).
Extensive off road parking (no roads).
Near local amenities (crack den next door).
Viewing by appointment only (area under military curfew).
No chain (previous occupier missing).