The h2g2 Poem
Created | Updated Aug 28, 2003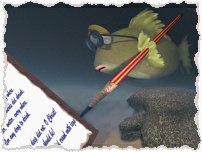 Following on from the two poems about lost love featured last week, this poem was written on the same theme but much more retrospectively.
Now and Then

Do you remember that feeling of being in love?

Swimming in rivers of laughter,

Talking in the golden sunshine,

And playing in the landscapes of the heart?
Do you remember how the whole world smiled at us

And laughed at our laughter?

And all things were possible,

Everything was easy,

And even the dull grey things were fun?
Do you remember how we kissed?

Our souls dancing across the universe?
All of that was then, and this is now.

And the reason I remember,

Is that I can hear the freedom and laughter

In your voice again.
And it is hard to wish you joy in your new love.