A Life on the Ocean Wave: Disorientation
Created | Updated May 2, 2010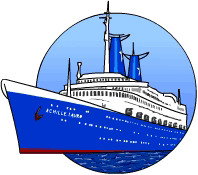 Hello. My name is Emma and I go on cruises. Mostly, so far on P&O ships out of Southampton, but other perfectly good cruise companies are available. ;-) When I can, I con my parents into paying for my ticket.

When I travel, I blog. If you would like to read it all, it can be found at my PS. The Post have asked me to proffer some edited highlights of my ramblings, which I shall now inflict on you forthwith. Enjoy.

Disorientation
I THINK it's 1pm. I've just woken up. I THINK that's the time, but, with an inside cabin, I have no way of knowing for sure until I get dressed and go outside! It may be 5am! This is the time shown on my laptop and mobile. I think this is UK time. Unfortunately, my ship's clock, on channel 1 of the telly, is also reading 5am! So I'm really confused now! My bedside clock and wristwatch agree that it is 1pm, however, so I'm going to get dressed and go out and see. If I'm not fast, I'll miss lunch!
4.30pm
It WAS 1pm. I hadn't missed lunch. I slept nine hours straight last night. I must have needed it! By the time I'd got up and dressed and finished lunch, there was barely time to check my emails before Spanish class. Ordering in a restaurant. VERY important! Una mesa non-fumar. Agua minerale sin gaz y sin hielo, por favor. That's a non-smoking table and a still mineral water with no ice, for the non-espagnol-speaking of you. I always assume that I'm addressing a plural number of people, but I rarely get any feedback, so it's entirely possible that I'm not! I could just be addressing one solitary soul, for all I know!
Today Spanish clashed with The Curious Case of Benjamin Button, which I really wanted to see, but the late showing doesn't finish til 1am and I've got an early start tomorrow, so I'll have to hope they show it again sometime. It's very difficult fitting it all in, it really is! Can't report as regards sudoku or crosswordage. When have I had the time to sit and do them?!
Pink
Skin. Arms and nose, mostly. Am trez warm. I'm not nearly as burnt as I expected, actually. I'm barely a darker pink than my pyjamas, and certainly not as dark pink as my laptop or my phone. Although I have a mate who is! Her husband tells me she was wearing factor 40, but I'm afraid I remain unconvinced on this point. I felt hot just sitting looking at her this evening! There was a music quiz in the nightclub tonight. We got 55 points out of about 70 available (including bonuses), but another table just so happened to get 56, so they won. Despite the fact that no one else in the room scored above 40. Seems a bit suss to me...
Today, I finally gave in. My thumbs have been itching since Sharm, but today I finally found the time and the inclination simultaneously and I PAINTED. Yay! In fact, the views of Kemaman harbour were so lovely, I did two! I don't know how happy I am with the results. I had some issues with my sap green being too bright, but it's a start. It may be the first time I've put brush to paper in over eighteen months, so any painting is better than no painting right now. Trouble is, now that I've scratched the itch, it wants to be scratched again! Rather similar to the absolutely ENORMOUS bite on the back of my knee that I picked up in Port Kelang (despite never getting off the ship), but the BACK of my knee?! Seriously?! It's absolutely HUGE. I can't tell you. If I measured its diameter, I'd have to use centimetres, not millimetres. I kid you not.
Anyway, I digress. I painted. Yay. I do feel better for having done so. I think a good part of my antsy-ness and depression over the last year could have been solved if I'd just picked up a paintbrush. I'm not addicted, or anything, it's just very therapeutic and soothing. It's like meditation. You're forced to sit completely still for hours at a time and just gaze at the beauty of the world around you. Frankly, I think everyone should have to do it at least once a month. It's very restorative. It doesn't cure aches and pains and physical problems, it doesn't solve financial or employment crises, but it does silence the noise and the stress and the worries and the lists and all the other things that run around in your head all the time. My mind is now completely blank. You can insert your own joke there, go on, you know you want to, go wild.
I can see why art is used as therapy. It is very soothing to be that still. Of course, art is not only painting, but I think it would apply to sculpture too. Particularly pottery. Sinking your fingers into the clay and moulding it into something interesting would be similarly soothing, I imagine. I seem to remember thoroughly enjoying the sensation of my hands in wet clay when I was at school, but that was a LONG time ago. Ay carumba, it was over TWENTY years ago. OMG.
Talking of art, many of you will be aware that I buy art when I can. Mostly limited edition prints because I can't afford the proper stuff! And you will also know that I generally buy on cruise ships. Not always, obviously. There was the Imershvili I bought in Edinburgh. But for the most part on cruise ships. Primarily cos it's WAY cheaper than buying on land. Well, for some reason, there are no art auctions on this ship. I keep meaning to grab a crew member and ask why, but I never think of it at the right moment. I'm very sad about this. Firstly, because they used to hand out free champagne at the viewings - let's face it, there are worse ways to spend an afternoon than knocking back free shampoo whilst standing inches from an original Chagall/ Dali/ Nikita/ Erte, etc. - yes, originals were also available - and secondly because they also did raffles and GAVE AWAY pieces of art. Again, just prints, and not even limited editions either, but I have several nice pieces that I WON, rather than paid for, in the past. This may, in actual fact, be WHY there are no art auctions. I would venture to suggest that giving the stuff away isn't an ideal business model, at least as regards profit margins and all... Oh well, I suppose I'll just have to carry on trying to find time to make my own! Tsk.
My sunburn itches.

A Life on the Ocean Wave Archive