The Frankie Roberto Interview
Created | Updated Jul 11, 2003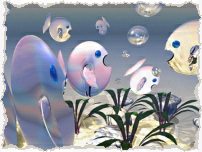 Frankie meets... Abi
Abi
on the development of h2g2 and the late Douglas Adams.
Unfortunately, I couldn't do my usual practise of editing this article during the morning this week. I normally edit the interview during a free period at college, but that looks set to change. I logged onto the college network this morning, received the e-mail from myself with the interview in it, and started the task of editing it in Notepad. Ten minutes later, one of the IT technicians crept up behind my back and made me jump, saying 'excuse me young man...' He then proceeded to tell me that he had been monitoring me remotely from the IT block and that I seemed to be doing work for 'an external organisation'. My response that I was simply doing my own thing in my own time1 had no effect. I was promptly told to 'get to work' or 'be kicked off'. Well, I know the college recently had problems with viruses (Hotmail and such sites are banned) and people playing net games, but this is taking the Big Brother thing to extremes. The idea that someone can watch what you are reading and typing is spooky, and what am I supposed to do now that I can't surf h2g2?... Oh well. Happy Birthday to the Post!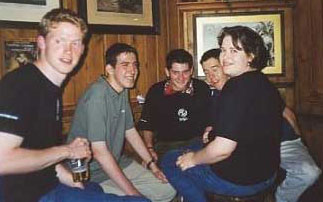 Abi is yet another of those lucky people who get to work for the h2g2 staff. Alongside Chris, who I have interviewed before, and the other italics, Abi looks after the community and keeps things ticking over. Part of her job as Deputy Community Editor involved managing the 'world of h2g2' and writing the weekly Abi's Activities. She tells me how she came to get this nice little job.
'I joined h2g2 as a Researcher in 1999 after seeing Douglas on the Big
Breakfast. At the time I was working for a very big charity. The internet connection at work was free and not monitored and so most people had their browsers open all day. I visited h2g2 but it was only on
the fourth or fifth time that I got hooked. I was really miserable in my
job and soon I was spending most of my time online in various different
personas. At the first Christmas meet-up I met Peta and was thrilled when
she invited me over to the Towers. Little did I realise that the beers and
the curry that ensued were actually a job interview! I was over the moon
when she told me she was looking for a deputy and ask if I was interested. By this time I was in a new job and doing really well, having just completed my probationary period with flying
colours. The office had no internet access so I was sneaking off to
cybercafes before work and at lunchtime. They were really shocked when I
went to sign my permanent contract and I handed in my notice
instead.'
I ask what the best and worst aspects of working in the Towers are.
'The best part has to be organising the meet-ups. They are a lot of hard
work but come the party it is all worth it! I have met so many fantastic people
through h2g2, some of whom have become really good friends of mine. While
writing guide entries isn't part of my job I really enjoy doing that too.
Though it is true that my university project, which was meant to be the
flagship one, is 18 months overdue! The worst part? The tea run. Some members of the team (they know who they are) never go to the Canteen to get the tea. Scandalous. That being said, I am pretty reluctant to volunteer too!'
Abi has been with h2g2 pretty much from the beginning, and has been part of the site's major development over the past few years. I ask what she thinks the main developments and improvements have been.
'I applaud Jim and the technical team who have developed the site over
the last two and a half years. They have created a site that is, in my
opinion, one of the most user friendly sites on the net. The Peer Review
system is another definite improvement. It seems to embody the spirit of a collaborative writing project and gives
people the chance to learn and improve their writing skills together. I also applaud the introduction of the Community Soapbox. I think it is very important that we have direct access to peoples' views on how we run h2g2,
however critical they may be. What is most pleasing is when people who are
not regulars post their views. Otherwise it is the same voices and that is
not representative of the Community as a whole.'
h2g2 is in constant development, and luckily the Towers always seem to be working on ways of building on and improving the site. This week has seen the release of the proposals for the tags that will be included within GuideML version 1.0 (including the debate on whether or not to keep the <MARQUEE> tag2). I ask Abi how she thinks the site will develop in the future.
'I see h2g2 as a living breathing organic entity and I see it from the
viewpoint of a Community. It is my hope and also my belief that the
Community will continue to grow and develop and with it so will the Edited
Guide. In the short term, the site has had a roller coaster of a year and
now is the time for consolidation. In a Community sense I think that this is all
about moving away from recent events and getting back to what makes this site
so great, a place where people can come and express themselves creatively in
a plethora of different ways. Long term, I think h2g2 sets the standard for other Community sites and
I would be interested to see how its influence spreads, within the BBC and
elsewhere. We are going to increasingly see broadcasters interact with their
audience. Reality TV has set the tone in the traditional media, even though
I believe that we have yet to reach a good general standard of quality. h2g2
shows how New Media can use people's creative energies to make a fantastic
product. Of course, one of the big developments will
hopefully be the ever decreasing 'To Do' list. Well, we can only dream!'
The Edited Guide continues to grow and grow, with the current total of entries at 3396. Slowly more and more subjects and places are being covered, and it's nice to look forward to a time when the Edited Guide will so many entries as to be a very valuable resource. Already the guide contains enough entries to have practical applications, as Abi tells me.
'I recently printed out all the Paris articles and read them on the Eurostar, so when
I arrived I was all ready to tackle the city! I am constantly amazed by the
diversity of subject matter and by the talent that exists out there. h2g2
has some seriously talented writers. Personally, I am a little concerned at the ever increasing length of
entries. It is tough on the eyes and unless I am gripped in the first
paragraph, I am likely to go and find something else to read. There is a
real art in making a piece of writing comprehensive and concise.'
I often think that there are two distinct areas of h2g2, the Community and the Guide. Some people seem to concentrate more on the community side of the site, chatting to other people and spending their time in the hottest threads. Other people dedicate a lot of time to developing the Edited Guide, either by researching and writing entries, making comments in Peer Review, or taking on the role of a Sub-Editor. However, one of the unique qualities of h2g2 is the way that these two things come together, with people discussing entries, and creating entries from discussions. These two different aspects of the site are never too far separated. Abi works primarily within the community sector, but explains how the task of creating the Edited Guide helps to generate such a good community.
By giving people a sense of responsibility for their actions, you
foster the collaborative nature of the Community and the Edited Guide. In
Blair's Britain, the term 'stakeholder' has become a huge cliche, but it
does seem to neatly sum up what h2g2 Researchers are. We foster and develop
the site but only in response to the lead they set. I can't think of many other sites who have such a positive relationship
with their users. Certainly my experience of other community sites has been a far cry
away from that of h2g2. '
Another feature that helps to generate successful online communities is the organising of real life meetups. My experience of other online communities, both newsgroups and local organisations, has shown me that well-organised, regular meetups really play a huge part in sustaining and developing peaceful and productive communities. The next h2g2 meetup, in case you didn't already know, is in January, and I ask Abi how the planning is coming along!
'The preparations are going really well; we have a lot of ideas that are starting to come to
fruition which is good. The main problem is always finding a venue, but thanks to a
well known London listings magazine we have come up with a pub that fits the
bill completely. It is wheelchair accessible and the Landlady is very
friendly, so hopefully it should work well. I am not going to reveal any
details, though. You will just have to wait and see!'
I try to sneakily ask if the photo-scavenger-hunt (a great idea for a fun game, where we are given tasks to go out and photograph things) idea is going to happen.
'It is one of a variety of options being actively considered! But I'm not saying anything more then that. Good try though!'
One thing that is sure to happen at any meetup is the making a big deal of anything which has '42' written on it. As a whole, the h2g2 community, myself included, is generally pots about the Hitchhiker books. I ask Abi how much of a fan she is.
'Pretty big. I first read the Hitchhikers' Guide to the Galaxy books on a school trip. I know this
is difficult to believe, but I was very shy then and used to get really
homesick. The book was the only thing that got me through a horrible week
of youth hostelling. I then bought the radio series on tape and have
listened to it constantly ever since. I remember seeing Douglas on the
South Bank Show when I was about 17 and thinking to myself 'I would really
like to work for you'. I never expected to achieve that, in fact I
dismissed the thought instantly. Achieving that ambition was
fantastic.'
Before the BBC takeover of h2g2, the site was part of Douglas Adams's company, The Digital Village. One of my big amitions, which will now sadly never be possible, was to meet and chat to Douglas Adams, and so I ask if Abi ever got to meet the big man herself.
'I did, though not as often as other members of the team. We once
made a cup of tea together in the kitchen at The Digital Village and had a quick chat about the state
of the wall opposite which was covered in stains where everyone threw their
teabags at the bin and missed. I can't remember much other then thinking 'I
am making tea with one of my heroes!'. I think I spent the rest of the day
grinning! It was a great moment. At the opposite end of the spectrum was the Friday night when Peta rang to tell me he had died. I can't remember what she told me after that, my mind
was a complete blank. Watching everyone's reaction on site was desperately
moving. I hope h2g2 goes from strength to strength as a fitting
memorial to him.'
h2g2 was Douglas' baby. It bought together all the technology he
loved, his creativity and gave people a chance to write together. At last people have
the chance to explore a creative side that modern life and workstyles
doesn't neccessarily give them. Douglas was an ideas machine, an innovator
and so obviously there had to be people who were employed to crystalise
those ideas. By the time I joined he was already in California full time,
but I think any one who heard him speak on the subject of h2g2 could not
fail to be struck by his passion for the project.'
As a final question I ask Abi what she would want to say if she could have the chance to meet Douglas again.
'I would want to talk genetics with him. I don't really understand
it, but I am fascinated by the way man has genetically engineered domestic animals
through selective breeding. I think I would also want to talk about rare
breeds of flora and fauna. I think Douglas' philosophy was one that we can
all learn a lot from.'
Next Week: Unfortunately, due to my being in the school musical 'Grease', there won't be any interview next week, but look out for a new one the week after!

Subscribe
to this series of Interviews and be notified when each interview is
published!
The Frankie Roberto Interview index
page.
1Admittedly I do surf h2g2 when I'm supposed to be working, but not this time
2I think it should go...