This Sporting Life
Created | Updated Jul 11, 2003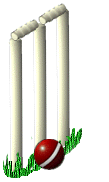 England v Australia: Third Test, Trent Bridge
Australia beat England by 7 wickets.
So Australia have won the Ashes in emphatic style. Again. As they have done since 1989.
At 4 pm on the third day of the Trent Bridge Test, all England's hopes and dreams crashed and burned. If one is being honest one would have to say that that happened on day two of the First test.
At least the Third Test was a little more even-sided. At the end of day one, England had slid to her normal figure of all out for under 200. 185 to be exact. Then again, Australia had lost 7 wickets and chalked up only 105 runs. By the end of day two Australia were all out for 190. A proper game in the making perhaps? Sadly not! England were 144 for 6 and were bowled out the next day for 162. Australia easily made their target of 158.
That is not to say that Trent Bridge did not have some valuable lessons and some great individual performances. Alex Tudor returned from injury to show that he is a bowler with a great future. He was accurate and inexpensive. 5 wickets in an innings on your return to international cricket is something he was quite rightly very pleased with. The problem is that England have been so injury hit (and partly of their own making) that they have not fielded a full strength side. One could argue about the amount of cricket that professional players are asked to play over a season. England were also victim to some bad umpiring calls which has restoked the fires of whether technology should take over from the human eye. When racing introduced the photo finish just after the war, the old guard would have none of it and claimed that the human eye was superior. Now photo technology is commonplace. Is it time for cricket to follow suit?
For me it is all very sad. There was a spirit of optimism and we seemed to believe that, even if a series victory was in our wildest dreams, at least this year, perhaps, the series would be a little more evenly matched. As it turned out this was not to be the case. England's batting was simply not good enough. In the three matches and six innings they only made one total of over 200 runs. There were no individual centuries. Put in that context, you can see why Australia simply out-did them. The same for fielding; with quality batting of the order of Australia, no team can afford to drop catches the way England have been.
One thing I have noticed is a sudden trend to look back to the 1981 series, or Botham's Ashes as they are more popularly known. Ian Botham managed to almost single-handedly turn what appeared to be a solid defeat for England into victory. What is it that they say about the past being another country?
Abi... Post Sports Correspondant.