The H2G2 Queen Fan Club
Created | Updated Jul 3, 2007


NEW MEMBER!!! Welcome marshman!!
Something's got into this page... Like gin? Like it's being UPDATED...!!!
Click Here to be notified when this page is updated!
Welcome to


The H2G2 Queen Fan Club!

Members:
Queen Fans who have signed upLaudatortemporisacti2LegsakaAlex AAngelfeetArcharisArgon0BassmanbucketpCaframCal FortuneswellCaptain NugeCaretaker, TheCat-EyesCheckersClareClincherClive the flying ostrichCodpiece Mancpt jediCybercatCymbelineDanny B.daSilvaDave WilsonDeackieDon AlfredoDragonflyDragonlady, ThedrmegabiteENOHAEtchelloEternityEuanFadookiefanaticFizzymousefox511FrankiemouseGaribaldiGarth VaderGnomeCarlGranny WeatherwaxGrifter GalGregHagarackIcebladeInfinityINTERN..2jaz'dupcurryJed the HumanoidJenyJimsterJust zis Guy, you know?KazKessKid, TheKitkatKiller QueenLady in a treeLDKITTIELennyLifson KofieLittleDarlinLittleMissFordPrefectLouloup.argentLucy JordanLurcherLynneMad HankMadmcgowanMagwitch 24Margaret-BMarquee_Moonmarshman1337Midnight AngelMikemokemutant mushroom>New Fast Automatic F-REEKNickr2d2NorNot Panicing YetONE EYED SHE CHACALOrcuspedboyplease wait......PrimordQueexRED-DRAGONReddyfreddyResearcher 190848Researcher 227070 (Ron)Researcher 232590RipperRokkerbelrooftilerroymondoSamarkandSeagull's lost horizonShazzSmilodon PrefectSnowmanSpread Your WingsSTAR FLEETStargazerSummerbayexileswin1000TaamyutamaireTemporal BanditTiggerTheDepressedYakTheDirtyVicarTheta SigmaToffeewhisperTontoTony2TimesTowelMasterTray_DUncle BobUnconformityVIPvogonpoetWatermusicWazzowWibblet, TheZaphodZantic---------------------------Join the Fan Club-------------------------The roster is now in alphabetical order.


Members: 129





Sign Me UP!Click Here to join the H2G2 Queen Fan Club!
Sign Me UP!
Click Here to join the H2G2 Queen Fan Club!
Over to YOU, NPY!!

As you have all noticed, pointed out, and got annoyed about, I haven't been online in far too long. I'm permanently employed now, meaning I don't get the time to get onto hootoo... Which is a pity, because I'm missing it terribly! So in all fairness to everyone, I'm handing the running of this fan club over to someone who has stuck with it through everything - when times are good and even when the site lies dormant.
So, as from now, Not Panicing Yet (U187116) will be in charge of this fanclub

. I know she'll pull it through and get it back on track asap! So if you're a newbie, hold tight, she'll get you sorted out
. I have every confidence in her. I'll still be around on and off, and I'll drop in my
whenever I can, otherwise, head to my PS and get my email addy from my journal... I'd really like to still hear from you all! I miss you!

Love Lauda...



CLUBHOUSE
Now Open!

The Clubhouse is in full swing and many of you have already stopped by. Keep coming! For those new to the club, you can head on over there for a drink and a chat, catch up on the latest gossip, change the song, lurk around, or whatever else you want to do!
Head on over...

New Badge!!!


And about time too! I've been promising it to you guys for ages...hmmm...Mental mote to self: Keep up!

Well, here it is1:



H2G2 Queen Fan Club


I just thought we needed a bit of outrageous extravaganza. Like Freddie did!


The code is here, so please can everyone update their Personal Spaces and take the old badge off...


Fun Stuff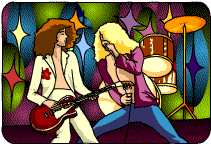 It has been brought to my attention that there is a picture on the h2g2 servers of Freddie Mercury and Brian May - alledgedly - disguised as The band "Led Zeppelin"!
Freddie is the one on the right, with a blonde wig, and May on the left, well, not much of a disguise on his part.
I Think we're pretty sure that it's not them at all, but anyway, it's here.

If you want to use this picture for some strange reason, then its Blob number is B1235436.

Also, There is a site on the web Theseways called I look like brian May dotcom! While you're externally surfing, why not try The Official Queen Website, The International Queen Fan Site, and brianmay.com.
.



If you any fun stuff that could go here, then please Mail them to me.




NEWS
On the road again

Ok Queen fans, I hope you're ready for the new year, because Queen will be back on the road and touring again! Roger and Brian were in Germany when Roger announced that they will definitely be touring next year with Paul Rodgers on vocal duties. The dates will be in the UK and across Europe initially - possibly starting in March, but yet to be set in stone. You will of course be kept informed with what those guys are up to!



QUEEN ROCKS TOP 20 OF VH1'S "100 GREATEST ARTISTS IN HARD ROCK"

VH1's "100 Greatest Artists in hard rock, punk, metal and classic rock" featured Queen in the top twenty, peaking at number 13.
Queen came ahead of many other great bands such as the Kinks, Pink Floyd, the Doors, and many more with their top twenty rank. But then, what can we say? They are the champions!


46664 - 1 YEAR ON - THE EP

On January 4th 2005 '46664 1 Year On' - The EP is to be released for download on iTunes. The EP is to include a studio version of Queen's 'Invincible Hope'. Written by Roger Taylor the track was also performed live at the 46664 Concert in Cape South Africa last year.
The 46664 - 1 Year On - EP contains exclusive tracks that were specially written for Nelson Mandela's Global 46664 initiative in the fight against HIV/AIDS.
This collection of songs, including unique on-off collaborations by Queen and Nelson Mandela, Paul McCartney and David A. Stewart, Sting and Jimmy Cliff and Da Universal Playaz are the first set of studio tracks to immerge from these incredible sessions.
The tracks were recorded for the campaign which launched at the historic 46664 Concert in Cape Town, South Africa in November 2003.
A donation will be made to the Nelson Mandela Foundation in respect of each download sold.

46664 - 1 YEAR ON - THE EP Tracklisting:
Queen Feat Nelson Mandela -Invincible Hope
Whole Life - Paul McCartney / David A. Stewart
People - Jimmy Cliff Feat. Sting and Tony Rebel
Freedom's Coming - Da Universal Playaz
Thirteen Years
It has been more than a decade since the passing of Freddie Mercury, the lead singer in the band, Queen.

. Not much attention has been paid to this event, so leave your personal tributes in the "WE LOVE YOU FREDDIE" conversation. A sad day for the musical world.



Remakes?

The Three remaining members of Queen have recorded a new version of their song "We are the Champions" with Robbie Williams, who
has said he would like to see a "New Robbie"- This will be his 3rd new song since announcing a change of image. This will also be
this 1st(and hopefully last, but that's my opionion - Ed) song released with Queen. It has been said that it will not be released in the UK In respect to Freddie Mercury, a.k.a. Farokkh Bulsara who died tragically in 1991, but Personally I have heard it broadcast at A certain radio station, and it's not very good from my point of view- For one, the piano intro and under-padding has been ditched in place of an electro-alternative-rock-ish-Celesta sound.. not very brilliant in this fan's ears. But then that's what happens when people try to take the place of a legend. Bad move Robbie!

|
Articles

By the way, I hope you're all still remembering the definitive article on Queen...Hmmm, I wonder...

We're putting together an enormous entry on Queen as a whole, so it is taking time, so please don't forget about it!

To those who are already contributing, good work!
, but there is always room for more when you're writing about a band as great as this! Just head here and say what you'd like to help out with. As an incentive to write, your name will be listed in the 'written by:' column on the entry, and the entry on your space's edited entries section!


If the whole club writes just a little each, the entry will be written in half of the time! - Don't let Queen go unnoticed on h2g2! When you have written a piece, put it in the ARTICLE conversation and I'll put them all together! Let's move this bucket!




There are now 3 articles linked to from the h2g2 Queen Fan club, and here they are, in all their clickable glory!

Roger Taylor of Queen
'Made in Heaven' - Queen's Last Album
The Subtext of '39' by QueenWWRY - We Will Rock You - The official website. This isn't an h2g2 article, but it was recommended by Lady in a Tree


Club News

Well, as you already know, this site is being updated - finally!!! Your input is welcome!
SUGGESTIONS


We've got our new logo, but this is the old one if you still want to see it: Click Here


You can now check out some

links relating to the band - from homepages with a part about Queen to Full entries on the guide and official Queen sites! Just go to A669099!
|


Join
It's Simple to Join the Fan Club; Just drop a note below in the Join Here Thread or use this little gizmo!...Hi. I would like to join the fan club. My h2g2 U number is: U_______






The show must go on