This Sporting Life
Created | Updated Jun 22, 2003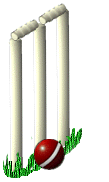 The joy of hope
Robert Browning, in his poem 'Home-thoughts from Abroad', wrote 'Oh,
to be in England now that April's there'.
Well Robert, you were a couple of months out because it is June,
Wimbledon fortnight has arrived and the Ashes series of Test Matches is just
around the corner. All of a sudden the country is united in the agony of
expectation. What will happen? Will Australia crush England like a bug in
a Radiohead song? How will the British Wimbledon wildcards do? Will Greg
Rusedski be a British hero or a Canadian disappointment? Is this Tiger
Tim's year? When will a British player make us choke on our strawberries by
sweeping all before them?
Expectation is a cruel goddess because, more often then not, she slaps you
in the face. You know, in your heart of hearts, that you have to temper your
hopes with a little bit of realism. But if you are anything like me, the
almost eternal optimist, you can't help giving into little day-dreams of a
five Test whitewash, with the Aussies humbled and Tim Henman or Greg
Rusedski raising that trophy high above their head, while the crowd go
ballistic. The thing that drives sport is optimism. It is the start of the
season, the clean sheet with last season's disappointments left way behind
you. Expectation might be a cruel goddess but hope is sport's lifeblood.

For me as a horse racing fanatic, it is a dream that one day I will buy a
mare and send her to a good, but not spectacular, stallion. The resulting
foal will be turned away for a few years and allowed to mature into a fine
looking specimen who then will set Cheltenham alight by storming up the hill
to win whilst I look on, screaming myself hoarse and bawling my eyes out. To
lead your own horse into the winner's enclosure at a meeting like the
Cheltenham Festival, where passions don't as much run high as scream through
every nerve, is every jump racing fan's dream. The romance of seeing a
horse of humble breeding take on and beat pampered and over-bred opposition
is second to none. Horses don't know their odds and they don't know where
the finishing line is. For them, it is all about a natural instinct to
battle for the right lead the herd. They are not aware of the dreams they
carry.
Forget Royal Ascot's reputation as a fashion show and corporate
entertainment event, that is not what it is about. Take a look out on the
course and watch Forumla 1 with DNA. Watch owners', breeders', trainers'
and punters' hopes fly out of the starting stalls. There is a moment at
the start of each race, that split second before the gates open or the tape
flies up, where everything and everyone is equal. Winning is an opportunity
that is open to anyone brave enough to take the situation by the scruff of
neck; the horse and jockey who are brave enough to take the lead and refuse
to give it up, matching the fast finishing opposition stride for stride and
stretching every sinew to win; the player who goes a set down but remains
unbowed; the team that looks at the other side's innings total and is not
intimidated.
This is the wonder of sport. From the moment the first Wimbledon umpire
says 'Play' and Steve Waugh and Nasser Hussein gather on the pitch for the
toss, anything is possible. We can hope and dream, and more often then not
we will have to look disappointment squarely in the face. But there is
always a next time. The next match, the next race, the next season, the
next foal... next time could be the one when the dreams become reality and
that is a tantalising prospect.
So whoever you are and whichever team or player you support over this
summer, I hope that they do you proud. If you are longing for the start of the
football season, I hope the remaining days go quickly for you. You will
find me with Test Match Special on the radio, Wimbledon on the telly and my
nose in a Thoroughbred stallions directory dreaming of what might be.
Abi... Post Ashes Correspondant.