Notes From a Small Planet
Created | Updated Jun 22, 2003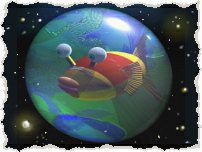 Mullets and ballots
This week's edition of the UK newspaper 'The Sunday Times' gave warning of a new and terrifying threat to the aesthetic health of the western world. It reported that the 'mullet' - the short at the front, long at the back haircut - is making a comeback. It is apparently being seen again in style magazines and on fashion show catwalks, and we face the horrible prospect of otherwise sane and sensible men wanting to walk around looking like Rod Stewart did during the Eighties.
What's more, a mullet-wearer has been at the centre of the biggest news story thus far in the UK General Election. Craig Evans, the farm worker and hunting enthusiast who threw an egg at Deputy Prime Minister John Prescott and got a fist for a reply, was not only guilty of an attack on a man more that twice his age. He was also the bearer of a particularaly criminal mullet.
This cannot be allowed to continue. The mullet must not be allowed to return. If you feel I'm overreacting here, just remember what Michael Bolton used to look like, and you can see what this sort of thing can lead to if left unchecked.
Meanwhile, an Eighties revival can also be seen taking place in the world of pop. Soft Cell, whose UK chart-topping single 'Tainted Love' will be remembered by most over-thirties, are the latest band from that era to reform, following Madness, Culture Club, Heaven 17 and ABC. Bands of an even earlier vintage, who began in the Seventies and lingered into the Eighties, are also returning: Blondie, Roxy Music and The Eagles are all back again.
Now, that I don't mind so much, especially when (like Blondie and Madness) they have new songs and they're good. But whatever happens, I will never feel nostalgic for the Eighties. For me and for most British people from outside the prosperous south of England, it was a bitter and barren time, when social divisions were dramatically increased by the merciless monetarist policies of Britain's government of the time.
And guess what? That government's frontwoman is back too, just like Debbie Harry. Margaret Thatcher has rallied to the cause of the Conservative Party's bid to return to power in Britain, making her first UK General Election campaign speech since 1987.
I watched her delighting the party faithful at a rally in Plymouth on the TV news, and the years just rolled away. She performed a remixed version of her Eighties smash hit 'Foreigners Are Ghastly', and those famous icy tones seemed more than ever like a wildly exaggerated parody of how the English upper classes speak.
She got an ovation from the Conservative audience despite - or perhaps because - she expressed hostility to the European Union in terms so extreme as to go well beyond her party's present-day policy. How her reappearance will go down with the wider public, and how it will affect the Conservatives' fortunes in the election campaign, remains to be seen.
Perhaps there are still some who long to hear such unforgettable numbers as 'There's No Such Thing As Society' and 'There Is No Alternative' again. Personally, I always much preferred Debbie Harry, and I suspect that many millions would agree.
High drops
Research at the University of Arizona has brought new hope to those afflicted by the dreadful eye condition glaucoma, which causes a progressive loss of vision in chronic sufferers and often leads to complete blindness. Previously, the disease has often been treated with laser surgery, which is effective but risky, and laser treatment can itself cause blindness if complications set in.
But the Arizona scientists have found a natural, painless and effective treatment that can relieve glaucoma patients' suffering: cannabis smoking.
The 'treatment' works because the disease is caused by high pressure on the eye, and the relaxation induced by dope smoking eases the pressure. Professor Robert Noecker, one of the Arizona researchers studying the treatment of glaucoma, has commented:
'There's no doubt that smoking pot lowers eye pressure. The idea is to eliminate the side effects.'
Noecker and his team are now working on synthetic cannabinoid (cannabis-like) eye drops with a low concentration of THC, the main psychoactive component of marijuana. William Stamer, another of the scientists involved in the project, explains:
'The nice thing about treating glaucoma with cannabinoids is that it goes directly to the eye and doesn't have all these side-effects.'
While this may at first seem to be a slightly killjoy attitude, those who have dabbled with the weed will appreciate that the side effects of smoking could cause some problems. They won't be surprised to hear that dope can have an effect on eyes. It can make them red and can make them see the strangest things and people as beautiful, for a start. So this research seems like very good news, and one can only wish Noecker, Stamer and their colleagues every success.
But there is a sting in this story, and it's one that takes us back again to the Eighties. Noecker has commented that the possible benefits of cannabinoids for glaucoma sufferers were known as long ago as the Seventies. Indeed, a great deal of research into the matter was done back then - but the research was stopped in the Eighties, because the conservative political climate meant that any research using cannabis was frowned upon.
All of which suggests that many people may have gone blind who need not have done so, all because the Reagan and Bush Mark One administrations simply couldn't bring themselves to believe that there could possibly be anything good about cannabis. For glaucoma sufferers' sake, one can only hope that on this issue at least, Bush Mark Two proves to be more reasonable.
Cash before wicket
Is there no area of human life these days that isn't tainted by corruption? Perhaps it's naive to be shocked, but somehow it seems particularly outrageous to hear that large-scale bribery and match-fixing has been going on in the world of cricket - that most genteel of games, beloved in England and its former colonies and generally regarded as utterly incomprehensible elsewhere. It's as if you were being told that the Queen Mother likes to smoke crack.
Perhaps that's why the cricket authorities have been so slow to react. It now appears that the evidence of corruption has been there for some time, but no-one wanted to believe it. A full investigation is now finally under way, headed by Sir Paul Condon, once one of Britain's top policemen and now head of the International Cricket Council's anti-corruption unit. His interim report suggests that the problem goes back at least as far as the Seventies, and became severe when gambling on cricket became more widespread in the early Nineties. Condon strongly criticises the Australian cricket authorities for attempting to cover up payments made by a bookmaker to Australian players Shane Warne and Mark Waugh back in 1994. Again, it appears, the authorities preferred to pretend that all was well.
As a result, the corruption problem has grown steadily worse, and cricket's gentlemanly image has taken a severe battering. Leading international players, including South African Hansie Cronje, India's Mohammad Azharuddin and Ajay Sharma and Pakistan's Salim Malik and Ata-ur-Rehman have been banned from the game for life after investigations into match-fixing. England's captain Alec Stewart is now under investigation following allegations that he accepted a payment from a bookie.
The game's world governing body, the International Cricket Council, is studying Sir Paul's interim report at its leisure, and will deliver its response on June 18. It's to be hoped that they accept his calls for drastic action. The way things are going, the phrase 'it's not cricket' may soon come to mean something that's entirely honest and above board.
Hitching to safety
Meanwhile, back in the relatively tranquil world of soccer, the final FA Carling Premiership league table of the season made unhappy reading for me. It confirmed that my beloved Bradford City FC would be banished from England's top soccer competition, having finished 20th out of the Premiership's 20 teams. (For the uninitiated, the clubs who finish in the last three positions each season are relegated, or demoted, to the less prestigious Nationwide League.)
But looking a little further up that final Premiership table, I noticed something strange. Just outside the relegation places, occupying positions 14 to 17 in the league table, came no less than four clubs - Derby County, Everton, West Ham United and Middlesbrough - who had all ended the season with exactly the same number of points: 42. So the ultimate Answer to the Question of Life, the Universe and staying in the Premiership this year was 42.
A pity that my team obviously hadn't read the 'Hitch-hiker's Guide To The Galaxy' books. But it is nice to imagine Douglas Adams, up there in the great beyond, manipulating the soccer results in order to prove his theory correct.