Just for Fun
Created | Updated Jun 22, 2003



Over the past few days I have read many memorials to Douglas Adams, he indeed did touch our hearts very dearly. It is unthinkable that someone so young, should die, it does not seem fair. But life is so very often not fair, and I think that Mr Adams will even now be looking down onto the site that was his brain child, and smiling that grin of his thinking, "Life, Don't talk to me about life!!!"

We will all remember him fondly, and we, who are part of his legacy will learn to smile again, for that is what I am sure Douglas would want.

SHARE AND ENJOY!!!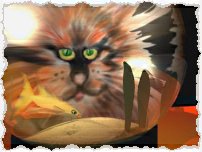 IT'S A WRAP

A Special TV quiz based on a famous tv series. Answers at the bottom of the page.




THE HITCH HIKERS GUIDE TO THE GALAXY


by Douglas Adams


Who played Arthur Dent?
Which part did Sandra Dickinson play?
If you add the number of heads and arms of Zaphod Beeblebrox... what number would you get?
What has the Hitch Hikers Guide got printed on its cover?
Who produced and directed the tv show?
JOKE OF THE WEEK

"It's unpleasantly like being drunk."

Whats so unpleasant about being drunk?"

"You just ask a glass of water...."



DNA ON h2g2

Whats is the Guide? Douglas Adams tells us here in his own words, go on and take a look...




CLICK HERE




THE WEEKLY ANAGRAM

For those that don't know, an anagram is a word or words, formed from rearranging letters from another word or words. An example anagram would be, Cat Got Beer, which reaaranged makes my name Greebo T. Cat.

Each week I will print an anagram and a clue to what it is. You will have until next week to get the answer.





ITS FLAT BAR RATS


hint: The Hitch Hikers Guide





NAME THAT SONG

A song quote from the guide...




'With hope in your heart'



GREEBO'S BIG ONE

Would you like your say on the big issues of the day? Well here's your chance, click below to get transported to Greebo's voting booth, were you can answer the question of the week.

Results will be printed next week.

VOTE HERE
ANSWERS
It's A Wrap

THE HITCH HIKERS GUIDE TO THE GALAXY


by Douglas Adams


Who played Arthur Dent?
Simon Jones
Which part did Sandra Dickinson play?
Trillian
If you add the number of heads and arms of Zaphod Beeblebrox... what number would you get?
5
What has the Hitch Hikers Guide got printed on its cover?
Don't Panic
Who produced and directed the tv show?
Alan J. W. Bell

Name That Song


You'll Never Walk Alone by Rodgers and Hammerstein


The Weekly Anagram


ITS FLAT BAR RATS - SLARTIBARTFAST



AND FINALLY


Send your jokes, letters and anything else to me here:-


Greebo T. Cat



Please Write 'JUST FOR FUN' in the Subject Line, or your letter may be overlooked.


Thanks again everyone...

Greebs