Just for Fun
Created | Updated Jun 22, 2003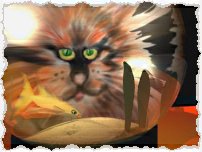 I don't understand Formula 1. Stooby and I were travelling out to the shops when the car in front of us starting swerving to the side of the road. Running up the grass verge, and looking like someone with a death wish was driving it. Stooby was swearing away about the driver, and making strange comments about the drivers driving. Yet on Sunday, he watched cars veering onto the grass, swerving from side to side and passing people on corners etc., and he was encouraging it... MEN!!!

IT'S A WRAP

The weekly movie quiz for all you film buffs out there...answers, as usual, in next weeks 'The Post'.




BATMAN AND ROBIN


The Bat is Back...

Who plays Batman?
Who plays Robin?
Who directed the film?
Who are the two evil baddies of the film?
Alicia Silverstone is who in the film?
JOKE OF THE WEEK

A man was on a walking holiday in Ireland. He became thirsty so decided to stop at a little cottage and ask for something to drink. The lady of the house invited him in and served him a bowl of soup by the fire. There was a wee pig running around the kitchen, running up to the visitor and giving him a great deal of attention.


The visitor commented that he had never seen a pig this friendly. The housewife replied: "Ah, he's not that friendly. That's his bowl you're using."





GET YOUR THINKING CAP ON

A question will be set every week for you all to try and answer. The question will be a mind-bending puzzle, and the answer will be given next week.

The question:-


How many letters are there in the alphabet?




FUN ON H2G2

I enjoy browsing pages on H2G2, so I thought that I would bring your attention to some of the fun researcher written pages I have come across on my travels.



Vah! Denuone latine loquebar? Me ineptum. Interdum modo elabitur. Don't know what I am talking about? Then go and see Biedermann and his rather brilliant guide entry called,'Handy Latin Phrases'. That will see you right, and make you laugh I think.




CLICK HERE




THE OCCASIONAL BIT OF FUN

Don't worry about the odd title, this is just a little irregular section which I will include in 'Just For Fun', when I see something that tickles my fancy.



THESE ARE ACTUAL EXCERPTS FROM NEWSPAPERS




- Lawyer Says Client is Not That Guilty

- Alzheimer's Center Prepares for An Affair to Remember

- Include Your Children When Baking Cookies

- Something Went Wrong in Jet Crash, Experts Say

- Gas Cloud Clears Out Taco Bell

- Miners Refuse to Work After Death

- Juvenile Court to Try Shooting Defendant

- Stolen Painting Found by Tree

- Legislator Wants Tougher Death Penalty

- Man Jumps Off 2nd Street Bridge. Neither Jumper nor Body Found

- After Detour to California Shuttle Returns to Earth

- Man Found Dead in Cemetery

- War Dims Hope for Peace

- If Strike Isn't Settled Quickly, It May Last a While

- Couple Slain, Police Suspect Homicide

- Kids Make Nutritious Snacks

- Local High School Dropouts Cut in Half

- Woman Improving After Fatal Crash

- Red Tape Holds up New Bridge

- Deer Kill 17,328

- Arson Suspect is held in Massachusetts Fire

- New Vaccine may Contain Rabies

- Man Minus Ear Waives Hearing

- Old School Pillars are Replaced by Alumni

- Hospitals are Sued by 7 Foot Doctors

- Publicize Your Business Absolutely Free! Just send $6.00.

NAME THAT SONG

Each week I will print a quote from a song, all you have to do is guess the title of the song and who sang it.

This weeks quote:-




'I believe in angels, something good in everything I see.'



THE WEEKLY ANAGRAM

For those that don't know, an anagram is a word or words, formed from rearranging letters from another word or words. An example anagram would be, Cat Got Beer, which reaaranged makes my name Greebo T. Cat.

Each week I will print an anagram and a clue to what it is. You will have until next week to get the answer.





WEEKLY SULK ARK

hint:star wars





LAST WEEK'S ANSWERS

It's A Wrap

CONTACT


Who plays Ellie Arroway
Jodi Foster
Who wrote the novel on which the film is based?
Carl Sagan
Who directed the film?
Robert Zemeckis
Who is speaking on the first message received from space?
Adolf Hitler
What does the letters SETI stand for?
Search for Extra-Terrestrial Intelligence

Get You Thinking Cap On


Q. What game begins with a T, has four letters in its name, and is played all over the world?

A. GOLF

Name That Song


The Greatest Love by Whitney Houston


The Weekly Anagram


Cruel sergeant = General Custer



AND FINALLY


Send your jokes, letters and anything else to me here:-


Greebo T. Cat



Please Write 'JUST FOR FUN' in the Subject Line, or your letter may be overlooked.


Thanks again everyone...

Greebs