Week In, Week Out
Created | Updated Jan 29, 2003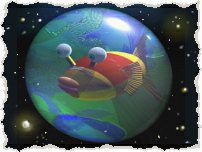 Monday, February 22
I begin the week by going to the shops to buy a large sack of potatoes and a gallon of cooking oil. This is National Chip Week in Britain, and I feel that it is my patriotic duty to join in this celebration of one of my homeland's great national dishes. They may be known as French fries elsewhere in the world, but chips are a part of the fabric of British life. They have done much to make this nation what it is today, i.e. a country with a lot of overweight, unhealthy people in it.
My shopping trip complete, over a hearty chip breakfast, I ponder whether I was perhaps a little hasty when I declared my support for former Sex Pistols manager Malcolm McLaren in the race to be the London Mayor in last week's column.
I did so because I was furious over the outrageously fixed election that made the dull but obedient Frank Dobson the official Labour candidate rather than Ken Livingstone, the champion of the Left and the clear choice of most Londoners. The problem is that the only other candidate with a real chance of becoming Mayor is the appalling Steven Norris, a Tory greasier than even the most poorly-cooked chip. There's speculation that Ken might stand as an independent, but that remains uncertain - so what to do if Ken doesn't stand?
Then I discover something wonderful, which solves the problem very neatly. What I hadn't realised was that the Mayoral election is to be carried out under the Single Transferable Vote system, by which voters get to choose a first and second preference. Assuming that no candidate has an overall majority of first-choice votes, the bottom-placed candidate drops out and their votes are redistributed according to who their supporters named as their Number Two choice.
Perfect! My strategy will now be to give Dobson my second-choice vote and McLaren my first. In that way I can help to stop Norris while at the same time casting a protest vote - and what better candidate to receive that protest vote than McLaren?
After all, as The Sex Pistols' manager, he helped to bring us Johnny Rotten, Sid Vicious and the film 'The Great Rock 'n 'Roll Swindle'. So who better to vote for in protest against the rotten, vicious swindle that denied Ken Livingstone the Labour nomination?
Tuesday, February 23
I really must stop reading the newspaper while I'm eating my breakfast. This morning's headlines almost make me choke on my poached chips on toast. Last October, a dreadful and preventable train crash nearPaddington Station in west London claimed the lives of 31 people. Much anger was directed at Railtrack, the private company that maintains Britain's railway infrastructure. The Government promised swift action, and announced that it no longer considered it to be appropriate for a commercial enterprise like Railtrack to be responsible for safety on Britain's railways. It was promised that a separate organisation would be set up to monitor standards, and to ensure that profit would never take precedence over public safety.
Well, now we know just how effective that watchdog organisation is likely to be. The government has announced that Railtrack is to be monitored by Railway Safety Limited... a newly-created subsidiary of Railtrack.

I can see it now. The representative from Railway Safety Limited goes to the Railtrack board meeting and announces:
'Look, I'm sorry about this, but you need to spend much more on safety equipment. Unfortunately that'll mean cutting your profits and share dividends, but it's the only responsible thing to do.'

The Railtrack chairman will respond:
'Yes. Of course you're right. We'll definitely do that.'

Millions will be poured into rail safety.And flocks of winged pigs will perform graceful aerobatics around the Railtrack headquarters.(A wonderful image there Ormy. Ed.)
Wednesday, February 24
After an enjoyable elevenses of chips en croute, I am shocked to hear the following tale of senseless spite.It concerns 'Keep The Clause', a pressure group campaigning to retain Clause 28 of the Local Government Act, the law that forbids British schoolteachers from telling their pupils that homosexual relationships can be as valuable as heterosexual partnerships. The pressure group advertised in the Scottish newspaper The Daily Record, giving a 'Freepost' address to which donations could be sent without even the need for a stamp on the envelope. Well, the ad certainly got a response, but it wasn't entirely the one that Keep The Clause wanted. Among the donations they received were lots of empty envelopes, beer mats, telephone directories and a neatly-wrapped paving slab.
How absolutely disgraceful. I sincerely hope that no Post readers would dream of resorting to such childish measures.
The address not to write to is:

[Address removed by moderator](LOL!. Ed.)

I really must clear up all these potato peelings. Pass me an envelope...
Thursday, February 25
After a luscious lunch of chip casserole and chips, I am startled to read that the Archbishop of Canterbury, Dr. George Carey, has been warning us all about what he sees as the dangers of the Internet.

Giving a lecture on the theme of citizenship, he reminded his audience of the novelist E.M. Forster's famous phrase:
'only connect'

but then added:
'Forster had something more in mind than a PC with a modem'. You may argue e-mail can be a way of making important connections. That's true, but it can also be a distorting and unsatisfactory one in which self-deception and evasion are prominent... We must be sure that the virtual community is at the service of real communities, not a substitute for them.'
I find myself thinking of one particular community I've encountered around here: the Christians on h2g2 group, whose faith I do not share but who are as good an advertisement for that faith as could be wished for. I've read some of the discussions on their page and found them both interesting and refreshingly free from any of the ugly intolerance that is sometimes propagated in the name of religion.
How will they feel reading Carey's words? And what makes the Archbishop think that a virtual community cannot also be a real community? h2g2 is living proof of this; people have found IRL partners here, and real friendships have been forged. Whatever, here's the final ironic twist. Dr. Carey's misguided remarks about the supposed evils of e-mail gained further circulation when they were sent out from his headquarters at Lambeth Palace - via e-mail.
Friday, February 25
Following a delightful dinner of sautéed chips with béarnaise sauce, I note with interest that the Republican Party in Carroll County, Maryland, USA have had great success with some of their recent fund-raising efforts. They held a raffle to raise funds for the forthcoming Presidential election campaign, and did way better than expected, raising no less than $16,000.
'The reaction has been amazing... I have never seen so many people so united'

raffle organiser Scott Hollenback gushed to a CNN reporter.
And what was the prize that got Republican supporters so united in rabid enthusiasm?
A 9mm Beretta handgun!

While the raffling of handguns is a pretty novel idea, another prominent Republican - congressional candidate Michael Curtiss of Illinois - has already raised thousands of dollars by raffling rifles. When the morality of this was questioned, Curtiss replied:
'As long as I dispense with them in a lawful manner, what's done with them after they leave my control - I have no responsibility for it.

And then, I imagine, he probably went on working on campaign speeches about the need to do everything possible to preserve law and order.
Saturday, February 26th
As I savour my supper of chips flambé in brandy sauce followed by chip-flavoured ice-cream, I read a culinary tale that delights me and gives me a glow of pride in my cultural roots.

You see, I come from near Bradford, long celebrated as the curry capital of Britain. And the story I see today carries some quite extraordinary statistics about the extent to which curry has become undeniably Britain's favourite dish. There are, it seems, more Indian restaurants in London than in Delhi and Bombay combined. More than 175 million meals are served each year in over 8,500 Indian restaurants and takeaways, and half a million Britons are sufficiently curry-crazed to eat the dish every day.

Finally, and most amazingly of all, get this: curry now accounts for 30 per cent of all spending on food in the UK.

I feel so happy about this that I think I'll nip out for a celebratory chicken madras... With chips, of course.
Sunday February 27th.
Examining myself in the bathroom mirror in the morning, I am disturbed to notice that I appear to have put on quite a bit of weight, and broken out in spots. Now how that could have happened? Anyway, it's the last day of National Chip Week (Thank goodness the references to chips are over! Ed.) and after an enchanting evening meal of chips stroganoff followed by cherry cheesecake and chips, I discover that Tony Blair has spelled out exactly what he wants his government to achieve at a party to celebrate the 100th anniversary of the founding of the UK Labour Party.

They are:

Full employment, with the UK embracing the challenges posed by the information technology revolution and knowledge-driven businesses.
Excellence for all in education.
Making Britain's National Health Service the best health service in the world.
Making child poverty a thing of the past.
Raising Britain's standing in the world so that it becomes a beacon to other nations.
All of Britain's streets to be literally paved with gold, milk and honey to be available free from taps in every British home, and everybody in Britain to live happily ever after
.,


Oh all right, I made that last 'goal' up.

But looking at Britain as it is today, it seems about as likely to be achieved as any of the others.