The h2g2 Poem
Created | Updated Feb 4, 2009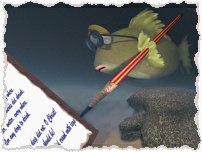 A Riddle Rhyme No. 1
A gent named Len was lent a cent to buy a feather.


Len took the feather and gave it to Heather.


Heather then took the feather and bought some leather.


Len went into a boat wearing a boater to go and visit a goat.


The goat was bloated on beer which made him gloat.


The goat's name was Bill and he fitted the bill.


Bill wanted his fill so he rode up a hill to the bar but it made him ill.


Bill met Steve was on leave and who wore short sleeves.


There were some thieves who were all lived at Eves.



Poetry By Various Contributors