Notes From Around the Sundial
Created | Updated Dec 18, 2008
And I think to myself, what a wonderful world!
Carols for Christmas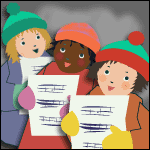 Christmas is coming, and while the goose may not be getting fat in these recessionary times, there are still plenty of people willing to spend money if the number of people flocking to the shops is anything to go by. I live just 20 minutes' walk from one of the biggest shopping centres in Ireland and at this time of year it is difficult to get near it, due to the crowds of people there to spend their money. People may be going to cut down on their spending in the New Year, but there's no sign of them doing it yet. I think this may be a last fling before the recession really hits. Unfortunately, charities which rely on the public to give money are hardest hit by the recession. So it was a pleasant change for me to try to help one of the charities. I headed into one of the shopping centres in Dublin, but not for the purpose of parting from my hard earned cash.
Carols for Simon
Instead, I was there along with about 40 others to sing carols. We gathered in the Jervis Centre which is a nice spot, but very noisy. We were singing for just an hour and a half, in aid of the charity Simon, which looks after homeless people. We had prepared a selection of carols, and we launched into them with great gusto. Unfortunately, the background noise from the crowds of shoppers was such that we couldn't sing quietly. Everything had to be blasted out at full volume whether it was 'Hark the Herald Angels' or 'Silent Night'.
After about three quarters of an hour, we'd run through our entire program, so we took a couple of minutes break, then launched into the same programme again, second time round. The charity had provided a couple of women with T-shirts and buckets to collect money for the charity while we sang. They didn't appear to be doing very much: every time I looked, they were standing there looking at the choir rather than shaking their buckets at the public. Nevertheless, they managed to collect €1,700. It's nice to see that people are still prepared to give, even though they haven't as much spare cash as they had. That figure included a donation from the management of the shopping centre itself.
We headed home that evening with the satisfaction of a job well done.
Carols for Focus
The following weekend, I met with a different group of singers, in a different shopping centre for more carols. This time, it was a smaller venue, and there wasn't anything like as much noise, which is lucky, because there were only eight of us. My daughter and a woman from the charity, this time Focus Ireland, another homeless people support group, held the buckets while we sang. It was good to sing with people who are all good sight-readers. It meant we were able to sing some 8-part music (each of us singing a different tune). I think we sang well: again we were singing for an hour and a half, but we had prepared a bigger program, so we didn't have to sing the whole thing twice.
This time, being closer to the people with the buckets, I could see quite a few shoppers stopping as they passed by to put money in. Quite a few people gave us €20 notes! I didn't hear what the final total was, but the woman from the charity was very happy with it. I feel we did our bit for the homeless people in Dublin, and plenty of people's days were livened by hearing us singing.
Carols for Christmas
My bigger choir will do their final concert of the year on Wednesday night. By the time this is published, the big concert will be over, but I can tell you in advance that we filled the place, as already every seat is sold. There'll be a selection of carols, some of them sung by the choir and some with the help of the audience. We've a very good small brass ensemble who will play their own stuff, and we have a few soloists who will sing some songs of their own choosing. We're also performing a work of about 20 minutes' length called the 'Christmas Oratorio' by Saint-Saëns. I hope that the concert goes well. It's not in aid of charity; having already earned about €12,000 for charity in the last two weeks, we feel we deserve to earn a bit of cash to support the choir, and keep it running for another year.
It should be a treat for the audience (or it should have been, if you're reading this now and the concert is already over.) The National Concert Hall is a lovely spot for the audience—there are comfy seats, there's a bar for drinks at the interval, and room for everybody, audience and choir, to get together at the end for a big chat and a few more drinks.
And then it'll only be a week to Christmas!
Notes from Around the Sundial Archive