Christmas Spirit
Created | Updated Dec 17, 2008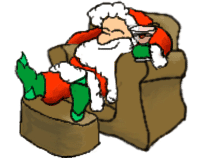 The  Post
Christmas  Poetry  Competition   2008



Christmas Spirit by Jhawkesby
Baubles and fairies with fluffy hair,


Playing with tinsel, getting it everywhere.
Lighting the candles, filling the drinks,


Doing all that washing up in the sink.
Opening the crackers with a bang,


Presenting gifts that make you want to hang!
Christmas shopping all day long,


Following you about with Christmas songs.
Opening the presents, playing with toys,


So much fun apart from the noise.
Delicious food in my belly,


Watching boring films on the telly.
Family coming round for tea,


Why not borrow our spare key?
Oh, I'm full of Christmas cheer,


But what is good about another year?



The Post Christmas Competitions 2008