The h2g2 Poem
Created | Updated Dec 30, 2011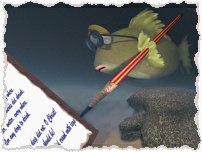 Seasons of Love - Autumn Parting
It was time to part, though we were sad


To leave you in that god-forsaken place


Strewn about with random luggage.


We watched the lights of hope and fear


Pursue each other on your face


As you started on your big adventure.


When we walked around the lake


Its unruffled calm deceived us all


With thoughts that winter would be long delayed.


Autumn barely lit a spark of gold


Among the weary leaves of summer.


But we returned to our deserted house


To find our memories growing old;


Like cobwebs round your empty bed and chair.


While silent hours hung like heavy folds.


Autumn shadows sidle through the air,


The leafless twigs are decked with glistening tears,


And winter lurks outside our window panes.



Poetry and Stories by minorvogonpoet Archive