The Exobiological Exotic Recipe File
Created | Updated Jul 15, 2005
Various Researchers, whose personal physiology tends to the unusual, wonderful, or downright weird, have decided to compile a list of some of their favourite recipes, for public (ahem!) consumption.
If you've ever wondered about the favourite noshes of
s, werefrogs, werechickens, and other creature of the night (and/or p-space), read on!

WARNING! Although the recipes listed below are completely edible, even by those with normal humanoid metabolisms, the appearance of some of the items requires mental equanimity. Bon appetit!
























This first recipe, from Malabarista the werefrog, requires a bit of getting used to, but those with a strong stomach are in for a real taste treat!
It is recommended that you don't leave the finished product where your cat can find it!
Kitty litter cake – yes, it looks as bad as it sounds!
Ingredients
1 spice or chocolate cake (from a mix, if you must)

1 white cake (Also from a mix if you must. Really, your own recipe's much better!)

1-2 large packets vanilla or chocolate pudding, prepared according to directions

1 large packet vanilla or lemon biscuits or wafers

green + blue food colouring

12 Tootsie Rolls® or other longish chocolate (not chocolate covered) toffees


1 new (never, ever used!) kitty litter pan

1 new (same goes here) plastic kitty litter pan liner

1 new (again, don't use beforehand!) litter scoop

Bake cakes and allow to cool, the pan size is not important.
Prepare pudding and chill until ready to assemble.
Crumble biscuits in small batches in food processor, scraping often. Alternatively, you can put them in a plastic bag and roll over them with a rolling pin until finely crushed. Set aside all but about 1/4 cup. To the 1/4 cup biscuit crumbs, add a few drops green and/or blue food colouring and mix until completely coloured.Using your hands, crumble the cake into a large bowl. Mix carefully with half the white biscuit crumbs and enough pudding to moisten it without making it too wet and soggy.Line your new, clean kitty litter box. Put the mixture in the bottom and smooth it out.
Unwrap the toffees, put them on a microwave safe dish and heat until soft and pliable, a few at a time. Shape ends so they are no longer blunt, curving slightly. Bury six slightly in the mixture, then spread the remaining biscuit crumbs over the lot. Last, sprinkle on the green crumbs to look like the chlorophyll in kitty litter.Heat 3 toffees in the microwave until almost melted. Scrape them on top of the cake allowing them to deform; sprinkle with a few biscuit crumbs. Drape the remaining toffees over the sides or curl up slightly in the middle, dusting each one lightly with crumbs. Place the box on a newspaper and sprinkle a few of the crumbs around for a truly disgusting effect!
Raisin flies with wafer wings can also be added for realism.
You can use any flavour cake and pudding, feel free to experiment! Another alternative is to bake the cake in rectangular pans, cut into layers and spread pudding in between, as the crumbs completely cover the top, but this completely changes the texture of the dessert.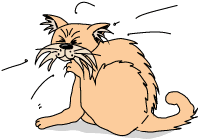 For the herbivores among us, the following perfectly edible treat:
Stuffed Nasturtium Blossoms
Ingredients:
24 pesticide-free nasturtiums
1/4 cup cream cheese
24 capers
Place nasturtium on a tray or large platter. With butter knife, press about a half-teaspoon cream cheese into the centre of each flower. Push a caper into the centre of each blossom.
Serve immediately, or refrigerate no more than one hour.
For extra colour and flavour, sprinkle borage around the nasturtiums.
Editor's comment: I've heard of garden salads, but this is a new one on me!

Here's a little something brought to us by benjahv, a

of great renown around the pond and MotMV-land, whose kindly exterior and magic dreadlocks conceal an awesome power not to be tampered with lightly.
benjahv claims that 'there is nothing creepy or gross about this recipe, the only thing that is off the wall is it was provided by a Hell's Angel', but we know better, don't we, hootooers?
This recipe will probably turn you into a were-truffle-pig, or something.






















Thunder Grunt Suffed Mushrooms
Ingredients:
10 mushroom caps (big)

3 rashers of bacon

1/4 cup butter

2-3 cloves of garlic

1/2 cup of fresh breadcrumbs

1 1/2 tbsp of Worcestershire sauce

3/4 cup of cheese

5 Tbsp of parmesan for topping (other cheese works fine)

Prepare the mushrooms by cutting out the stems and cleaning them then place them on a baking tray.
Fry the bacon until it is crispy then crumble it up when it is cold.
Add the butter to the pan after removing the bacon, saute the garlic slowly for about 5 mins then add the breadcrumbs and fry for a few minutes.
Add the Worcestershire sauce and cheese, mix and then put the bacon back in.
Fry for a few minutes ensuring everything is well mixed in, the mixture should be very moist but not wet. if it looks too wet add some more breadcrumbs.
when you are happy with the mixture stuff it into the mushrooms, then sprinkle the cheese on top.
Put the mushrooms in a 350F degree oven for about twenty minutes or until the cheese is golden brown.
Serve with beer or your favourite drink.
This feeds two Hells Angels, but will probably feed 5 hungry people or 10 people for a starter.
After you have eaten these you will see why they are called "thunder grunt!"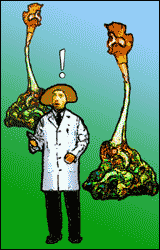 From delightful Austria, the equally delightful Tavaron brings us this sinister-sounding, but tasty treat.
Editor's Warning: It is inadvisable to serve this dish to anyone whose ancestors were either a) Albigensians

, b) witches

, or c) followers of Jacques de Molay or Jean d'Arc (you decide). This is considered tacky in occult circles.
A Snow-Capped Funeral Pyre

Ingredients:
5 stale rolls (thinly sliced)

1/4l milk

1 egg

1 egg yolk

a pinch of cinnamon

lemon peel

10g vanilla sugar

250g apples (peeled and sliced)

40g raisins

40g sugar

30g butter

snow:

white of 2 eggs

50g sugar
Mix milk and eggs, put cinnamon, lemon peel and sugar into it and pour it over the rolls. Let them soak it up.

Cover the bottom of an oven dish with some of the mass, then add a layer of apples, raisins and sugar. That way create one layer after another, on top should be a layer of rolls. Melt the butter and pour it over the 'funeral pyre'.

Bake it in the oven for about 40 minutes at 180 degrees centigrade (356 F).

For the snow beat the white of the eggs until it's stiff, add the sugar and beat it again. Spread the snow on the 'funeral pyre' and let it get light brown in the oven.
Burn, sugar, burn!
Count Gheorgheni's Special Vampire-Proof Mamaliga
Ingredients:
1 cup cold water
2/3 cup yellow corn meal
Salt to taste
Hint of garlic salt
Mix cold water with cornmeal, let sit a few minutes while boiling the rest of the water. Add to boiling water. Stir to prevent lumps. Simmer 1 hour, partially covered. Add salt and garlic salt, to taste.
Leave the garlic out if you don't like it, but remember, that's what makes it

vampire

-proof!
Serve warm with chicken and gravy, or, for a real Carpathian taste treat, eat it with sour cream!
Pofta buna! Bon appetit! Guten Appetit!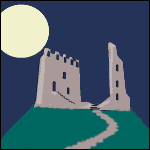 Safe when taken as directed, see doctor if symptoms recur