The h2g2 Poem
Created | Updated Sep 10, 2008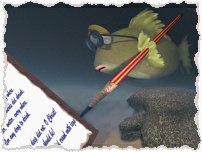 The Underguide is Five
I hear the Underguide is five


That's quite some time since it went live.


Congratulations, everyone,


Amazing work that you have done!
I've always liked the Underguide,


At times I even was subscribed


To the 'A double double-u',


Read all the stories that were new.
However, much to my dismay,


This thing called 'life' got in the way,


Preventing me from coming here


Enjoying what I hold so dear.
I thought I'd never make it back,


And when I did, I had lost track.


I then discovered Peer Review,


Which I find interesting too.
The Post has been my latest find,


Reading it helps me to unwind.


Here's to the next five or more years:


Hip hip hooray and many cheers!



Poetry by Various Contributors Archive