The h2g2 Poem
Created | Updated Apr 14, 2005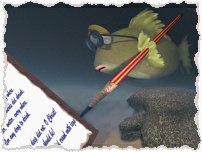 Lauren and Donna and Frances and Chloe
The redshank fled, crying chew-eww to the wind

when a man in a tub took a man out to Lauren.

He went back, came back with the third; the three made ready

to take out Lauren Jane

neatly trim in her white and yellow.

Donna, all in white, returned with her two meeting

Frances in green on her way with two more.

Chloe Jane, decked in blue, swings on her rope

pretending not to mind

being left behind.

Two seagulls pick over Donna.