The h2g2 Poem
Created | Updated Jul 31, 2008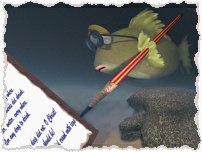 The Cat
The following verse comes from the youngest of the talented Moonhogg family. Please bear in mind she is of a very young age and only made one mistake, which has been left in as it comes from her schoolbook.
I came across a Cat


On the way to School


His coat was very shiny


His movements were very cool


I hid him in my bookbag


So that teacher could not chow


He stayed there very quietly


Until frightened by a cow.



Poetry by Various Contributors Archive