Human Rights Watch
Created | Updated Mar 31, 2005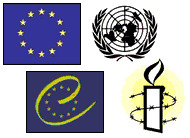 Iraq: Students having a picnic at Basra were beaten with rifle butts for playing music and for associating with the opposite sex. Two students were killed by the Shia militiamen. One of the students recognized a follower of a radical Shia cleric who heads a private militia which fought against the US forces. They are now forcing their extremist brand of Islam upon Basra, closing down shops which sell music and forcing women to wear the veil. The militia stripped one girl of her blouse and videoed her, saying how they would show the video to her parents as she was dancing half-naked with men. The student later killed herself. The cleric Sheik Ahmed al-Basri said that Allah authorized such beatings and that they should deal with them not the police. In fact when students asked the police for help, they were denied any help. Who said there was no government to give direction and they were dominated by political parties?

Turkmenistan: The president Saparmurat Niyazov has proposed closing all regional hospitals. He said

'Why do we need such hospitals? If people are ill, they can come to Ashgabat.'

Ashgabat is the capital of a country twice the size of Britain where 90% of the population live outside the capital. These hospitals are already suffering from a lack of staff and resources but to close them and expect people to travel to the capital when most are without transport would be a disaster. Some families have managed to travel the hundreds of kilometers and have to camp outside the hospital. The President himself flew a team of 6 German doctors into the country to have his eye examined, so even he considers the present health service to be inadequate.

This is a country which has already seen many closures, including all libraries. Education is now primarily the glorification of the country and the president. Presently banned are opera, ballet, circus, the Philharmonic Orchestra and non-Turkmen cultural associations. Citizens who criticize the government are subject to torture, prison without trial and the notorious cases of some being boiled alive. The last British Ambassador who tried to raise these issues was mislabelled as mentally ill and sacked.


Tibet To keep up-to-date with the human rights issues in Tibet please refer to Tibet News by John–the-gardener.
Information and Links