The Post Christmas Number Fun - Solution
Created | Updated Jan 6, 2005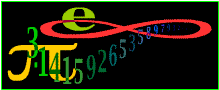 Numbers are usually for accountants, mathematicians or statisticians but they also figure in book, film or song titles.
We challenged you, from the clues given by the initial letters and the dates, to work out all the answers. Only one person cracked the code and provided every single solution and that clever person was...
The_Jon_m! Many congratulations!
Q 1 F D f M B (1904)
A 1 Fine Day from Madame Butterfly

Q 1 F O T C N (1975)
A 1 Flew Over the Cuckoo's Nest

Q 1 M W T M
A 1 Man Went To Mow

Q 2 J (1990)
A 2 Jakes

Q 2 F S E M b T R B (1977)
A 2 Four Six Eight Motorway by Tom Robinson Band

Q 3 A d b J L (1986)
A 3 Amigos directed by John Landis

Q 3 C I T F (1954)
A 3 Coins In the Fountain

Q 3 M b A D P (1844)
A 3 Musketeers by Alexandre Dumas Pere

Q 4 H O T A (1922)
A 4 Horseman of the Apocalypse

Q 5 E P (1970)
A 5 Easy Pieces

Q 7 Y I w M M (1955)
A 7 Year Itch with Marilyn Monroe

Q 8 A A H (1963)
A 8 And A Half

Q 8 D A W b T B (1965)
A 8 Days A Week by The Beatles


Q 9 T b D L S (1966)
A 9 Tailors by Dorothy Lee Sayers

Q 10 C (1956)
A 10 Commandments

Q 10 G B H O T W
A 10 Green Bottles Hanging on the Wall

Q 12 o C H (1949)
A 12 O'Clock High

Q 12 A M d b S L (1956)
A 12 Angry Men directed by Sidney Lumet

Q 18 T I D b B A (1996)
A 18 Till I Die by Bryan Adams

Q 20 T L U T S (1954)
A 20 Thousand Leagues Under The Sea

Q 24 H F T (1963)
A 24 Hours from Tulsa

Q 39 S d b A H (1935) A 39 Steps directed by Alfred Hitchcock

Q 42 S c b B B (1933)
A 42nd Street choreographed by Busby Berkeley

Q 50 W T L Y L b P S (1975)
A 50 Ways To Leave Your Lover by Paul Simon

Q 84 C C R (1986)
A 84 Charing Cross Road