Heads Up!
Created | Updated Sep 23, 2004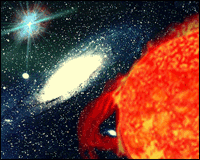 Mark your calendars: Wednesday, 29 September, 2004. That is the date that SpaceShipOne, a privately-owned and -financed space ship, makes its first official attempt at the Ansari X-Prize.
SpaceShipOne is scheduled to launch from the inland Mojave Spaceport in California at 6.00am local time [9.00am EST (US), 2.00pm (London)]. The launch in open to the public and tickets can still be purchased on the Web. Those who live too far away to see it in person can tune in to a live Webcast and (with luck) see history being made.
Links:

The 29 September flight is the first of two that SpaceShipOne must complete successfully in order to win the prize. It must complete a second successful flight within two weeks of the first. In addition, there are several other teams competing for the prize, including the Canadian team sponsored by GoldenPalace.com that is scheduled to make its first official attempt on 2 October.