The h2g2 Poem
Created | Updated Nov 1, 2009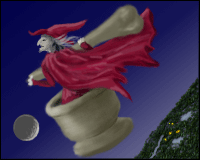 Me!
I am the witch who can't be seen,


And I was born on Halloween!


My own familiar with me sits;


His eyes are golden - merely slits.
I gaze into my crystal ball,


And see the snowflakes as they fall,


Upon the planet dark and grey,


For Summer solstice now I pray.
And when the tarot cards I spy,


I grasp them with a gleeful cry.


Perhaps the future will be told,


When pictures I at last behold.
So do not mock me, for I say,


'You may regret it one fine day,


When spells are cast and witches fly,


Upon their broomsticks in the sky!!'



Poetry by Various Contributors