They Think It's All-Ova
Created | Updated Jul 7, 2004
WIMBLEDON 2004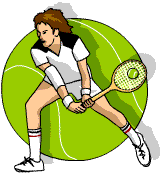 A first-time winner, a second-time winner, some records, and a 47-year-old in the singles draw. Just another year at the All-England Club
Maria, You've Got To See Her
Maria Sharapova, a 17-year-old Russian who grew up at Nick Bollittieri's Tennis Academy in Florida, went into Wimbledon seeded 15th and with a World Ranking of 17th, and one thing quickly became apparent- the girl can play, even if she's sometimes a slow starter. Cynics claimed that her root to the final was eased by the early departures of second and third seeds Venus Williams and Anastasia Myskina. Yet, looking at her performances in the early rounds, I still decided , going into the Quarter-Final stage, to put a £1 bet on her at 5-1.
When she went a set down to Ai Sugiyama in the Quarters, I was slightly nervous about this bet. By her dominant third set, I was happy again. Her semi-final with Lindsay Davenport followed the same template - lost the first set, won the second, walked the third. And fifth seed Davenport is a former Wimbledon champion, although the 28-year-old isn't planning to come back any more.
So, Sharapova was in the final. Would my bet fail at the last hurdle? Would she lose the first set and then dominate?
Neither.
She walked all over Number 1 seed Serena Williams, winner in 2002 and 2003, 6-1, 6-4. She had come out for the first set the way she normally comes out for a third set. Awesome.
This girl has a real talent - her shot-placing puts many more experienced players to shame, but her serve and hitting power are such that she can't be steamrollered by big servers such as the Williams sisters.
Unfortunately, despite Sharapova's astounding ability1, the British press have been obsessed with her looks; every report of one of her games comes across like an erotic novel. And of course, the press have been comparing her to Anna Kournikova, another blonde Russian product of Bollitteri's academy. Kournikova never won a singles title, Wimbledon is Sharapova's third, although her first at a Grand Slam. Kournikova spent her spare time modelling. Although Sharapova does model, her spare time at Wimbledon has been spent working on a psychology paper.
Although, the lie propagated by the media that Kournikova was an awful tennis player is unfair. Her natural talent was fantastic, she won 18 doubles titles, she was a top ten player, and she reached a Wimbledon semi-final. She wasn't a particularly great tennis player, but nor was she a bad one. And you know that if she was British the media would have flocked round her as a star for achieving what she has in her career, because it shames every British woman since Jo Durie2.
The fundamental difference between Sharapova and Kournikova, according to Bollittieri, is that Kournikova's mother tried to control her career, thinking she knew better than Bollittieri's coaches what her daughter needed to do, while Maria Sharapova's father, Yuri, allowed the coaches to do their job and make his daughter into one of the world's best tennis players. Also he says that Sharapova is more committed than Kournikova ever was.
It is still evident to see, however, that Sharapova is a teenage girl. Her delightful giggles during interviews, the ways she always looks overwhelmed at the end of matches, the way she ran to hug her father, the sweet kisses she blows to the crowd when she wins, the gushing interview after her triumph. It's those, as much as her tennis, which explains how she's wooed Wimbledon.
Federer The New Sampras?
Is Roger Federer going to become the new Pete Sampras? No, I don't mean the hairy chest, I mean the Wimbledon domination. Federer won for the second year in a row, the only players who managed to win a set against him being former champion Lleyton Hewitt and final opponent Andy Roddick. Federer looked for the most part invincible and I can't see any real challengers except, maybe, Roddick to stop the young Swiss dominating for years to come.
Of course, if you read the English newspapers, you will think that Federer's victory was a huge shock as Tim Henman, who has never played a Grand Slam final, was the favourite all along. He went out in the Quarter-final to Mario Ancic, a young Croat who, according to the Daily Mail was 'unknown and Henman should have got rid of in straight sets'. This is the same Mario Ancic who beat Roger Federer at Wimbledon two years ago and is the anointed successor to Goran Ivanisevic as the god of Croatian tennis. Which is why I had £1 on him against Henman at 5/2. I made quite a tidy profit out of Wimbledon this year.
The Henman Factor
Now, I use these annual Wimbledon reports to remind you all that Henman will never win a Grand Slam. But to be fair, I think some people are unnecessarily harsh on him. Some people are calling him a choker, the letters pages of newspapers are full of people declaring him a failure. Which shows the problems with a populace which pays attention to tennis only during the month-long grass court season. Henman will never win Wimbledon, but he has won a couple of masters series titles, an Olympic doubles silver medal (with Neil Broad in Atlanta 1996) and is now a fixture in the world's top ten, currently ranked at, I believe, number 5 in the world. We could do with a few more 'failures' like that in British tennis.
It's not Henman's fault that a large quantity of what the Daily Mail would describe as 'middle England' turn up, dress like morons, whoop like football crowds and put pressure on him. It's not his fault that every British ex-pro ever tells Sue Barker that he's 'one of the favourites' every year. He's a very, very good tennis player. But he's not what Sampras was, or what Federer is, and he doesn't have the mental strength to win a Grand Slam title, while his home crowd put unnecessary pressure on him.
Oh, and Henman thinks that 'People's Sunday', the reserve day on the middle Sunday which is only played on if there is a large backlog of games from the first week due to rain, should be used every year - the general public are allowed in, all tickets buy on the gate etc.
Problem there, Henman: It's a reserve day. A day is deliberately left blank so that games can be caught up if necessary. If tennis were scheduled for that reserve day, then how would you solve the backlog of games? The Sunday being spare to catch up on games only if necessary is a very good idea, and I would respectfully suggest that while Mr Henman is a very good tennis player I, for one, am pleased he's not head of scheduling for the All England Club.
A 47-Year Old? In The Singles Draw?
Yes, really. Although to be fair, it was the greatest female tennis player ever, Martina Navratilova, who holds the joint record for total Wimbledon titles with her former Doubles partner Billie-Jean King. Navratilova, who claims she really is going to retire this year, honest, entered the Ladies' Singles, in addition to both ladies' and mixed doubles. She went out in the second round of the singles, having destroyed a woman half her age in the first round. Unfortunately, she and Leander Paes couldn't successfully defend their mixed doubles title, losing a thrilling quarter-final against Wayne and Cara Black 13-11 in the third set. And in the ladies' doubles, Navratilova and Lisa Raymond also fell at the Quarter-final hurdle. But they'll be playing again at the Athens Olympics next month. No, really. And it'll be Navratilova's Olympic debut apparently.
Seeing Doubles
A Wimbledon titles record was set this year, though, as Australian Todd Woodbridge won a record ninth Men's doubles title, his third with Jonas Bjorkman after six with fellow Aussie Mark Woodforde. The Woodies were the most successful doubles pairing in history and, in fact, it was they who beat Henman and Broad in the 1996 Olympic final to which I alluded above. So congratulations Todd for that.
Wayne and Cara Black, the brother and sister from Zimbabwe who deposed defending champions Navratilova and Paes in the earlier rounds, went on to win the mixed doubles, while Cara was also triumphant in her women's doubles partnership with the American Rennae Stubbs.
1In the post-Wimbledon rankings she is up to Number 8 in the World, her first time in the top 10.
2It was seen as a triumph for British women's tennis that four players reached the second round at Wimbledon, even though none made the third.