Newspapers
Created | Updated Dec 26, 2009

Back to So Long and Thanks for Laughing
British News Bits



From the Churchdown Parish Magazine:

'Would the Congregation please note that the bowl at the back of the Church labeled "For The Sick", is for monetary donations only.'


From The Guardian concerning a sign seen in a Police canteen in Christchurch, New Zealand:

'Will the person who took a slice of cake from the Commissioner's Office return it immediately. It is needed as evidence in a poisoning case.'


From The Times:

'A young girl, who was blown out to sea on a set of inflatable teeth, was rescued by a man on an inflatable lobster. A coast-guard spokesman commented, "This sort of thing is all too common these days."


From The Gloucester Citizen:

'A sex line caller complained to Trading Standards. After dialing an 0891 number from an advertisement entitled "Hear Me Moan" the caller was played a tape of a woman nagging her husband for failing to do jobs around the house. Consumer Watchdogs in Dorset refused to look into the complaint, saying, "He got what he deserved."


From The Daily Telegraph in a piece headed "Brussels Pays 200,000 Pounds to Save Prostitutes":

"... the money will not be going directly into the prostitutes' pocket, but will be used to encourage them to lead a better life. We will be training them
for new positions in hotels."


From The Derby Abbey Community News:

"We apologize for the error in the last edition, in which we stated that 'Mr Fred Nicolme is a Defective in the Police Force'. This was a typographical error. We meant of course that Mr Nicolme is a Detective
in the Police Farce."

More Bad Headlines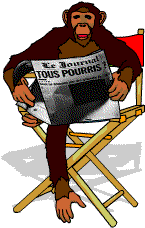 Blind Woman Gets New Kidney from Dad She Hasn't Seen in Years

Teacher Strikes Idle Kids

Lawyers Give Poor Free Legal Advice

Juvenile Court to Try Shooting Defendant

Fund Set Up for Beating Victim's Kin

Killer Sentenced to Die for Second Time in 10 Years

Cancer Society Honors Marlboro Man

Nicaragua Sets Goal to Wipe Out Literacy

Autos Killing 110 a Day--Let's Resolve to Do Better

20-Year Friendship Ends at Altar

War Dims Hope For Peace

Prostitutes Appeal to Pope

If Strike Isn't Settled Quickly, It May Last A While

Cold Wave Linked to Temperatures

Half of U.S. High Schools Require Some Study for Graduation

Sex Education Delayed, Teachers Request Training.

Prosecutor Releases Probe into Undersheriff.

Air Head Fired.

British Union Finds Dwarfs in Short Supply.

New Study of Obesity Looks for Larger Test Group.

Typhoon Rips Through Cemetery; Hundreds Dead.

If Strike isn't Settled Quickly, It May Last a While.

Plane Too Close to Ground, Crash Probe Told.

Clinton Wins on Budget, But More Lies Ahead.

Something Went Wrong in Jet Crash

Expert Says Police Begin Campaign To Run Down Jaywalkers

Safety experts Say School Bus Passengers Should Be Belted

Drunk Gets Nine Months In Violin Case

Survivor Of Siamese Twins Joins Parents

Stud Tires Out

Panda Mating Fails; Veterinarian Takes Over

Soviet Virgin Lands Short Of Goal Again

British Left Waffles on Falkland Islands

Lung Cancer In Women Mushrooms

Eye Drops Off Shelf

Squad Helps Dog Bite Victim

Enraged Cow Injures Farmer With Ax

Miners Refuse To Work After Death

Juvenile Court To Try Shooting Defendant

Stolen Painting Found By Tree

Two Soviet Ships Collide, One Dies

Two Sisters Reunited After 18 Years At Checkout Counter

Killer Sentenced To Die For Second Time In 10 Years

Never Withhold Herpes Infection From Loved One

Drunken Drivers Paid $1000 in '84

Enfields Couple Slain; Police Suspect Homicide

L.A. Voters Approve Urban Renewal By Landslide

Patient At Death's Door--Doctors Pull Him Through

Latin Course To Be Canceled--No Interest Among Students, Et Al.

Diaper Market Bottoms Out

March Planned For Next August

Stadium Air Conditioning Fails--Fans Protest

Queen Mary Having Bottom Scraped

Henshaw Offers Rare Opportunity to Goose Hunters

Antique Stripper to Display Wares at Store

Lingerie Shipment Hijacked--Thief Gives Police The Slip


Study Finds Sex, Pregnancy Link

Cornell Daily Sun, December 7, 1995


Whatever Their motives, Moms Who Kill Kids still Shock Us

Holland Sentinal, date unknown.


Survey Finds Dirtier Subways After Cleaning Jobs Were Cut

The New York Times, November 22


Larger Kangaroos Leap Farther, Researchers Find

The Los Angeles Times, November 2


'Light' meals are lower in fat, calories

Huntington Herald-Dispatch, November 30


Alcohol ads promote drinking

The Hartford Courant, November 18


Malls try to attract shoppers

The Baltimore Sun, October 22


Official: Only rain will cure drought

The Herald-News, Westpost, Massachusetts


Teen-age girls often have babies fathered by men

The Sunday Oregonian, September 24


Low Wages Said Key to Poverty

Newsday, July 11


Man shoots neighbor with machete

The Miami Herald, July 3


Tomatoes come in big, little, medium sizes

The Daily Progress, Charlottesville, Virginia, March 30


Dirty-Air Cities Far Deadlier Than Clean Ones, Study Shows

The New York Times, March 10


Man Run Over by Freight Train Dies

The Los Angeles Times, March 2


Scientists see quakes in L.A. future

The Oregonian, January 28


Wachtler tells graduates that life in jail is demeaning

The Buffalo News, February 26


Free Advice: Bundle up when out in the cold

Lexington Herald-Leader, January 26


Prosecution paints O.J. as a wife-killer

Fort Lauderdale Sun-Sentinel, January 25


Economist uses theory to explain economy

Collinsville Herald-Journal, February 8


Bible church's focus is the Bible

Saint Augustine Record, Florida, December 3, 1994


Clinton pledges restraint in use of nuclear weapons

Cedar Rapids Gazette, April 6


Discoveries: Older blacks have edge in longevity

The Chicago Tribune, March 5


Court Rules Boxer Shorts Are Indeed Underwear

Journal of Commerce, April 20


Biting nails can be sign of tenseness in a person

The Daily Gazette of Schenectady, New York, May 2


Lack of brains hinders research

The Columbus Dispatch, April 16


How we feel about ourselves is the core of self-esteem, says author
Louise Hart

Boulder, Colorado, Sunday Camera, February 5


Fish lurk in streams

Rochester, New York, Democrat & Chronicle, January 29

Gotta love the press
B41781

SOME 40% OF FEMALE GAS STATION EMPLOYEES IN METRO DETROIT ARE WOMEN, UP
FROM ALMOST NONE A YEAR AGO.

-- Detroit News article


MARIJUANA ISSUE SENT TO A JOINT COMMITTEE

-- Toronto Star headline


PUBLICIZE YOUR BUSINESS ABSOLUTELY FREE! SEND $6.

-- Entrepreneur Magazine ad


GATORS TO FACE SEMINOLES WITH PETERS OUT

-- The Tallahassee Bugle


MESSIAH CLIMAXES IN CHORUS OF HALLELUJAHS

-- The Anchorage, Alaska Times


MARRIED PRIESTS IN CATHOLIC CHURCH A LONG TIME COMING

-- The New Haven, Connecticut Register


GOVERNOR CHILES OFFERS RARE OPPORTUNITY TO GOOSE HUNTERS

-- The Tallahassee Democrat


WOULD SHE CLIMB TO THE TOP OF MR. EVEREST AGAIN? ABSOLUTELY!

-- The Houston Chronicle


GOVERNOR'S PENIS BUSY [SHOULD BE "PEN IS"]

-- The New Haven, Connecticut Register


THANKS TO PRESIDENT CLINTON, STAFF SGT. FRUER NOW HAS A SON

-- The Arkansas Plainsman


CLINTON PLACES DICKEY IN GORE'S HANDS

-- Bangor Maine News


STARR AGHAST AT FIRST LADY SEX POSITION

-- The Washington Times


CLINTON STIFF ON WITHDRAWAL

-- The Bosnia Bugle


LONG ISLAND STIFFENS FOR LILI'S BLOW

-- Newsday


ORGAN FESTIVAL ENDS IN SMASHING CLIMAX

-- San Antonio Rose


PETROLEUM JELLY KEEPS IDLE TOOLS RUST-FREE

-- Chicago Daily News


TEXTRON INC. MAKES OFFER TO SCREW COMPANY STOCKHOLDERS

-- The Miami Herald

True Stories


Phreakers, or 'phone hackers, managed to break into the telephone system of 'Weight Watchers' in Glasgow, and changed the outgoing message to 'Hello, you fat b*****d'

From The Scottish Big Issue: 'In Sydney, 120 men named Henry attacked each other during a "My Name is Henry" convention. Henry Pantie of Canberra accused Henry Pap of Sydney of not being a Henry at all, but in fact an Angus.
"It was a lie", explained Mr Pap, "I'm a Henry and always will be."

, whereupon Henry Pap attacked Henry Pantie, whilst two other Henrys - Jones and Dyer - attempted to pull them apart. Several more Henrys - Smith, Calderwood and Andrews - became involved and soon the entire convention descended into a giant fist fight. The brawl was eventually broken up by riot police, led by a man named Shane."


From The Guardian: "After being charged 20 pounds for a 10 pounds overdraft, 30 year old Michael Howard of Leeds changed his name by deed poll to "Yorkshire Bank Plc are Fascist B*****ds". The Bank has now asked him to close his account, and Mr B*****ds has asked them to repay the 69p balance by cheque, made out in his new name."


From The Manchester Evening News: "Police called to arrest a naked man on the platform at Piccadilly Station released their suspect after he produced a valid rail ticket."


An Austrian circus dwarf died recently when he bounced sideways from a trampoline and was swallowed by a hippopotamus. Seven thousand people watched as little Franz Dasch popped into the mouth of Hilda the Hippo and the animal's gag reflex forced it to swallow. The crowd applauded wildly before other circus people realized what had happened.


An elderly woman at a unit for sufferers of senile dementia passed round a box of mothballs thinking that they were mints. Eleven people were taken to hospital for treatment.


Following drinking binge in Christchurch, New Zealand, Koto Salaki passed out - so his buddies stripped him and shaved off his eyebrows as a joke. Getting no reaction, they proceeded to cut off his ear and glue it onto his forehead. Doctors managed to sew it back on.


After a heavy drinking session in Weymouth in August 1990, 51 year old Philip Pyne fancied a kip on a bench. To stop himself rolling off, he put 12 nails through his trousers and in the process, drove several of them through his leg. Fortunately he was discovered by police.


An operation at Nottingham hospital in January 1989 ended prematurely when the patient exploded. The casualty, an 82-year-old woman, was undergoing electrosurgery for cancer. The blast was attributed to an unusual build-up of stomach gases ignited by the sparks.


Less true headlines

Hole Found In Nudist Colony Wall - Police Are Now Looking Into It

Priceless Hair Taken From Top Salon - Police Are Combing The Area

101 Dogs Escape From Kennels - Police Say They Have No Leads

Several Public Toilets Stolen From Park - Police Have Nothing To Go On.