The Bookworm Club Review
Created | Updated Apr 28, 2004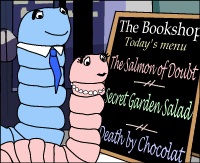 All reviews are written by members of The H2G2 Bookworm's Club. We hope this review is helpful, and that we'll see you airing your views at the Club soon.
The Cloud Garden, Tom Hart Dyke and Paul Winder
In 2000, these British men, who'd met when travelling separately around South America, decided to try to cross the Darien Gap (an area of land linking North and South America). The area was rife with paramilitaries and guerrillas and tourists were advised to steer well clear.
Paul, 29 at the time, was the adventurous type and believed that he was up to the challenge. Tom, six years his junior, was travelling in order to search out rare orchids and was keen to add to his findings.
They hired a local guide and travelled for six days with no incident. Just as they were about to reach the Colombian border, they were ambushed and taken hostage by an unknown group. Their guides disappeared. For the next nine months they were forced to travel around the area with the armed group, whose members came and went.
The book describes their ordeal and experiences and tells the tale of how they returned safely home, which itself contains a surreal twist.
The narrative is shared between the two men, who pull no punches in the description of their feelings, both towards each other and their captors, during this time. Both tell their stories with a dry humour and the reader is surprised to find themselves laughing out loud at incidents which happened in the depths of a fearsome journey. The characters within the armed group are described in detail; some are frightening, others frankly comical. The pair are well aware of how surreal and yet painfully real their experiences are.
Once started, this book is difficult to put down. It gives an insight to a subject which is highly topical and poignant at this moment in time. Given that they were travellers and not writers in search of a story, both men's stories read well and complement each other.
The Bookworm Club Review Archive
Review written by JulesK

Edited by Pinwheel Pearl