Sporting With Egon
Created | Updated Apr 22, 2004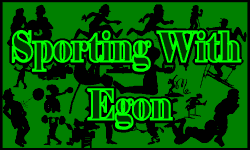 Right, this is going to be the last one of these I do, I'm getting bored, as you may have guessed by the increasing regularity of this column functioning as 'Sporting Without Egon'.

You see, I like sport, but after two years of writing about it weekly, I'd just like to be a fan and stop thinking, 'What shall I write this week?'

Several will still be around here, once I'm gone, with his wonderful contributions, and he will be joined from now on by Master B, a regular reader of and occasional contributor to this column. but here goes with the last 'Sporting With Egon'.
FOUR HUNDRED NOT OUT
In any sport, there is great speculation over who the best players ever are. In cricket, there is further debate as to whether the best ever should be a batsman or a bowler... or an all-rounder. Some will say Courtney Walsh was the best, some Malcolm Marshall, Garfield Sobers, Don Bradman, Len Hutton, Jim Laker, Ian Botham, Steve Waugh or WG Grace. Some might say Imran Khan, some Sachin Tendulkar.
Me, I reckon the best is Brian Lara. He's not the most consistent or reliable of players but he is a joy to watch. And I found myself last weekend sitting in Walkabout in Lancaster watching Lara destroy the England bowlers in order to set his second world test record of his career.
Lara had, at Antigua in 1994, hit 375 not out against England to pass Sir Garfield Sobers' record of 365. Then, last year, Australian opener Matthew Hayden1 beat that scorer, managing 380 against Zimbabwe (of whom more later). But then, West Indies v England. Antigua. 2004. Lara had a terrible series by his standards, as Captain. He offers a chance before scoring, he offers another on 128, and another on 274, but that's about it. And before you know it, the man's 400 not out from 582 balls. And then he declares, with the inning on 751-5, to give the West Indies a chance of salvaging a victory.
But they didn't get the victory, England batted out the draw, despite a terrible first innings (with the honourable exceptions of Andy Flintoff and debutant Geraint Jones, and England had a 3-0 win in the four game series.
But Lara. The man also has the World Record for any form of cricket, his 501 for Warwickshire against Durham at Chester-le-Street in 1994. He is the only man ever to score 500 in an innings, one of only eight to score 400, and one of only two to score 400 twice.
He's also the first man to break the Test Record twice. He's a legend. He can stink the place out when off-form, he's a terrible captain, but he can bat for days at a time, and his form last weekend
made it look like he could have scored 500 if he'd kept going, but he actually made a good decision as Captain, announcing the declaration.
Brian Lara, I salute you!
DIEGO MARADONNA IN INTENSIVE
CARE
Football, of course, also has those perennial 'who was the best' arguments. Pele? Cruyff? Puskas? DiStefano? Matthews? For me, and for many others, the only answer is 'Diego Armando Maradonna', the legendary Argentinian Number 10.

Ol' Diego won the 1986 World Cup virtually single-handedly and also led Argentina to the 1990 World Cup final despite continual attempts to, quite frankly, injure him.
He turned a Napoli team who were useless into Serie A and UEFA Cup Champions. He rose from the slums of Buenos Aries to be a global superstar. He dazzled the world with his skill.
He is thought of in most of the world as a great player. In England a large quantity of people seem determined only to remember him for the 'hand of god' incident, when he scored with a handball against England in the 1986 World Cup. Some people even ignore his second goal, the most breathtaking I've ever seen, where he skins half the England team before scoring. To hold a grudge about one handball in a game of football eighteen years ago is childish and stupid. Yes, it was cheating - although someone pointed out, I think in a newspaper, this week, that he actually had his eyes shut when he handled the ball and so may not have intended to score with his hand, but to protect himself from the onrushing England keeper Peter Shilton.
Anyway, Maradonna has always been surrounded by controversy, and has suffered drug addictions, with no-one to act as calming influence or prevent him from damaging himself and, on Sunday, he was taken into hospital and placed on a respirator after collapsing from heart trouble/lung problems/pneumonia/all of the above (no-one is entirely sure which), and aged 43 is rumoured to be close to death.
Should we feel sympathy and goodwill towards this bloated South American drug addict? Yes. He's an icon, a poor kid made good, the greatest footballer ever. He's an inspiration to millions. He
made his mistakes and they were stupid mistakes. His downfall is a tragedy, in the true dramatic sense of the word - 'A drama or literary work in which the main character is brought to ruin or
suffers extreme sorrow, especially as a consequence of a tragic flaw, moral weakness, or inability to cope with unfavourable circumstances.' - (dictionary.com).
His flaw, his weakness, has been his addiction to drugs, his wayward tendencies. Unfortunately he has been surrounded by sycophants who didn't warn him of the error of his ways but told him how great he is/was.
The BBC's South American football correspondent summed up Maradonna's problem quite well on Monday, better than I ever could (which is why I'm quoting him here). Vickery said:

'Former Argentina Captain Roberto Perfumo once made a fascinating comparison between Diego Maradonna and Julius Caesar.

The Roman Emperor had a slave walk behind him and constantly whisper in his ear 'remember you're only a mortal'.

Argentine society has done the reverse with Maradonna. Constantly being told he was a God has had terrible consequences for Maradonna's mental and physical well-being.'

From a BBCi article by Vickery.
SUPER OPTICIAN
Right, I'll tell you this idea I've come up with. it's for a character called 'Super-Optician', a female contact-lens specialist in Yorkshire. She's a schools cross-country champion, but gave up running on going to university. At 30, she starts running again to keep fit. At 36, she comes tenth in the London Marathon, beating her PE-teacher husband by 2 hours and earning a place on the British Olympic team.
Unlikely? Certainly.
But that is what Tracey Morris, of the Leeds branch of 'Dollond and Aitchison' opticians, did on Sunday. She lopped an hour off her personal best to run inside the Olympic qualifying time, and will be joining fellow Brits Liz Yelling and the great Paula Radcliffe in the marathon in Athens, although she's had to book time of work for it.
It's stories like that which make sport worth following.
'YOU'RE SHORT, YOU'RE BALD AND YOU ALWAYS WILL
BE'
My absolute favourite story off the week took place at the World Snooker Championships in Sheffield. Controversial Australian Quinten Hann was warned for swearing during his game with Andy Hicks, and told Hicks, 'The last three times I beat you, I really enjoyed it'. However, Hann went on to lose this time.
At the end of the game, Hicks taunted Hann by saying, 'You're not top sixteen next year now, are you?' Although in actual fact, some bizarre results would have to happen to push Hann out of the top ten.
Hann then replied by saying, 'You're short, bald and always will be, and can have me outside whenever you want!'. He later admitted that he, 'shouldn't have offered to fight' Mr Hicks. No, Quinten, you should, it livened up Snooker for a change.
ZIMBABWE CRICKET CRISIS
Fifteen white Zimbabwe cricketers have walked out on the national team, and at least three black players considering joining them, after Heath Streak was removed as Captain for saying that the board of selectors contained too many people who had no connection with cricket and were merely instruments of President Mugabe and were discriminating against White players. Streak suggested who he felt should replace the unqualified selectors, and they included former Test player Pommie Mbangwa. Mbangwa was then announced in place of one of the selectors who was qualified, but only found out himself in the papers, and rejected the role.
Streak's removal as Captain is what led the fifteen to walk out, and they have now had their contracts torn up, 20-year-old wicketkeeper Tatenda Taibu has been named captain, and Zimbabwe have named a woefully weak team to play Sri Lanka.
The International Cricket Council has refused to be drawn into the debate, saying it is a matter for Zimbabwean and not world cricket. Australia's players have been assured by the ACB that if President Mugabe or any of his ministers attempt to shake their hands, they will be instantly recalled from their tour there. England still haven't decided whether to go ahead with their tour of Zimbabwe in October, but look like they probably will. Unless Zimbabwe get suspended for sending a below strength squad to England for the ICC Champions Trophy in September. Oh, and if England do go they might take a weak squad, make the tour non-compulsory and not wear the badge or cap of the England team.
Several A/K/A Random's 'sporting blues'
Hello ! (Hello-o-o !) I know you're out there, AmSports fans. Since last weekend brought balmy weather (finally !) to the south shores of the Great Lake named Erie, I thought I'd take you outside and continue to ignore pro basketball and hockey's playoffs. If you must know, hockey is entering its second tier of playoff series, and basketball will be by this weekend.

And speaking of this weekend, the National Football League (AmFoot) is holding its annual draft of college players wishing on the stars for a million-dollar $signing bonu$, so that'll be complete for the next edition of The Post.

So outside we go, to Major League Baseball, entering the third week of their season. Some clubs are out to 'hot starts' that aren't expected to be in contention when the season closes in September, and some clubs that are expected to be contenders have had disappointing starts, but that's why they play 162 regular season games. Each game means something in the sum total, but there's always the next game, the next city.

A couple milestones were matched and surpassed so far, both in home run totals. First of all, San Francisco Giants' slugger Barry Bonds passed his godfather, the legendary Willie Mays, in all-time HR's, passing him at 661 and going on an individual hot streak, finishing the week with 665 career four-base smashes. When Barry's father, Bobby, no slouch of a baseball player in his own right, broke in with the Giants in the early 60's, Mays was the old veteran superstar, and took young
Bobby under his wing, helped him learn baseball and life on the road and in the spotlight.

When Barry was born, Mays was there for the toddler, always a part of his life, and was honoured when Bobby asked Willie if he'd be a god-parent. So when Bobby passed away last year, it was important for Mays to again be there for the now 39-year-old Barry who, along the way, was climbing ever higher on the all-time home run records, including the record 73 in a single season. (That has been somewhat tainted over the past winter, when steroids allegations swirled about the sporting world.)

So Mays, with his 660 career homers, was on hand to congratulate his god-son on becoming the third-most prolific home run hitter of all time, trailing only the legendary Babe Ruth at 715 and Mister Consistent, Hammering Henry Aaron with 755 career round-trippers.

An interesting side note to the home run saga was not in the ball yard, rather outside. You see, the Giants' newest park is hard by the San Francisco Bay and 450-foot homers to right field plunk into the bay. A group of local kayakers brave the chill waters of the Pacific Ocean, hoping for a home run souvenir baseball. It just so happens that a 53-year-old sales director of an area computer firm, retrieved both numbers 660 and 661 the following night. Larry Ellison gave the record-tying baseball to Mays and Bonds in exchange for autographs and fee tickets. Our intrepid Mr Ellison gave the tickets away and was in the right spot to retrieve number 661, which he intends to keep in a display case with the autographs, rather than make thou$and$ auctioning it off on e-Bay.

Now there's one true baseball fan and outdoorsman, who paddled away with his cooler, his radio, and home run baseball number 661.

Sticking on the outside in the AmSport world, we have Monday's running of the 108th annual Boston Marathon, the world's oldest annual marathon race, held on the Monday closest to the date of the historic ride of Paul Revere during the Revolutionary War, as we call it over here. Revere left Boston after being signalled that the British troops had landed, jumped on his trusty steed and visited every tavern and inn, no doubt watering his horse until he was far enough away from the
eminent battle, well-fortified himself, no doubt in my mind. In this day and age, we call it bar-hopping and spreading gossip, but that's another matter.

Anyway, the 26-mile-385 yard (42.195 km) race features over 20,000 entrants, and it seems it would indeed be an upset if a Kenyan did not win. Timothy Cherigat won the men's in 2 hours, 20 minutes and 37 seconds, ahead of Robert Cheboror, while Catherine Ndereba won the women's for the third time, finishing in 2:24:27, just ahead of Elfenesh Alemu at 2:24.43 as the two ladies battled head-to-head the entire race. The air temperature at the finish was 84 degrees (would that be nearing 40 Celsius? Must get conversion table!) so the times are well below course records.

Of particular interest is the wheelchair division of the race, and all the age group winners, which may be tabulated about an hour after my deadline, but I can tell you that Ernst Van Dyck of South Africa won the men's chair in a world record 1:18.27, and the second place finisher Joel Jeannot came in at 1:21:08, both shattering the 1994 record held by Heinz Frei of Switzerland. Van Dych's title was his fourth consecutive, tying him with Franz Nielispach for consecutive Boston wins, although Nielispach has five total Boston championships.

An 'American', Cheri Blouwet, now of Menlo Park, California, USA won the women's chair, covering the course in 1:39.52. Race organizers start the wheelchairs an hour before the runners to ensure the chairs don't trample runners en route from Hopkinton through 13 towns and boroughs to downtown Boston's Back Bay area. Organizers tell of past Marathons during heat, cold, rain, sleet, ice and snow and checkpoints are well-supplied with sports drinks, water, ice and shadowed by
police on motorbikes and Emergency Medical Teams, should assistance be needed.

As usual, teevee adverts for shoe companies aired throughout the race, and new ones are being re-cut as I type to sell the winning brand of shoes to the millions of runners and joggers that are beginning again to populate the nation's highways, byways and trails with the advent of warmer weather.

So, for another week, dear reader (reader-reader-reader)... can you hear me (me-me-me)? If so, just click on the handy-dandy place below with questions, suggestions, corrections and general abuse, where all will be seldom and randomly answered, according to the alignment of the earth, planets and stars - which reminds me, the Russian American and Euro astronauts are changing shifts in the International Space Station orbiting overhead as a sort of Early Warning System should Ford Prefect or, heaven forbid, the Vogons suddenly appear.

Over and outta here!
A FEW SELF-INDULGENT, AND INDEED MELODRAMATIC,
CLOSING REMARKS
So, this makes the best part of two years writing this, with varying degrees of regularity. I started as 2002 World Cup football correspondent, after Shazz had asked over at the Virtual Supporter's Club for anyone to volunteer. I then submitted, on the off chance, a report on the 2002 Wimbledon tennis championships, which made it in, and earned me some light hearted rebukes for my obsession with the lovely Belgian Justine Henin-Hardenne (the most perfect tennis player around at the moment). Shazz then asked me if I wanted to be a regular Post sports reporter, and thus was this column born.
In the life of this column I have had the misfortune to report on the deaths of footballers Miklos Feher, Marc-Vivien Foe and Jimmy Davis. I have had the delight of reporting on the breakthrough of Wayne Rooney, the renaissance of English cricket, world test records by Lara and Hayden, and to share my obsession with Cowdenbeath.
Sport is highs and lows, peaks and troughs, escapism. I've thoroughly enjoyed this. I ask you all to check out the archive down the bottom of this page, if only to see how many bloody articles I've
written. It shocked me, I can tell you.
I will still be around this 'ere Post - watch out for my new column from next week on the subject of late night television. I've also, in my time at The Post, written a concert review (Madness) and an obituary (Jam Master Jay, in addition to my articles on Foe and Feher). And now to my new venture, and a big thank you to all who have read, contributed to2, or discussed, the various 'Sporting With Egon' over the last couple of years.
And now, because Paul Anka can say it better than me, the closing theme to 'Sporting With Egon':

'I've loved, I've laughed and cried

I've had my fill, my share of losing

And now, as tears subside, I find it all so amusing

To think I did all that

And may I say, not in a shy way,

Oh, no, oh, no, not me, I did it my way'
Egon

with Several a.k.a. Random 


1
He never showed that form when he was captain of Northants!... ed
2Several, Master B, Demon Drawer, Alfredo Marquez, Psycorp603 and Ku'Reshtin