Sporting With Egon
Created | Updated Feb 25, 2004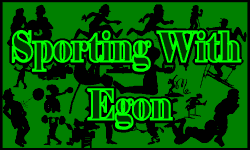 .
Football: Mourning Is Broken?
On Saturday morning, Welsh Football legend John Charles, who played at club level for Swansea City, Leeds United and Juventus, died aged 72. As Psycorps reports later in this edition of 'Sporting', a minute's silence in his respect was impeccably observed. Juventus also paid their tributes on Sunday. Unfortunately, Cardiff City's tribute to him didn't go as smoothly.
The minute's silence prior to Cardiff's league game with Sunderland was ruined by a section of Sunderland supporters shouting and booing, while other fans shouted that section down. The whole spectacle was appalling. This kind of behaviour is disgusting and, as in this case Sunderland supporters were responsible, it angered me personally.
Sunderland, you see, are my third team1, and I attended their FA Cup match with Birmingham City about ten days ago. Prior to that match there was a minute's silence in tribute to Bob Stokoe, the manager who led Sunderland to victory the 1973 FA Cup as a Second Divison side. Jim Montgomery, the goalkeeper in that game, who was hugged by Stokoe at the final whistle, stood in the centre circle with the FA Cup. One Birmingham supporter yelled something at the start of the minute's silence, and was 'shushed' by several others. The remainder of the minute's silence was impeccably observed.
Unfortunately some of the Sunderland supporters in Cardiff failed to extend the same respect to Welsh football in its own period of mourning. The minute's silence to remember football-related deaths is one of the few admirable things left in the increasingly corrupt and unpleasant sport of football. It would be a shame if we lose even that.
Cricket: England Welcome Jones Back
England fast bowler Simon Jones has returned from almost a year out with a horrendous knee injury to take his place in the squad for the tour of the West Indies. Jones dislocated his knee during the first Ashes test in late 2002, but has been in good form on the England 'A' team's tour of India and, if Steve Harmison can hit form, those two palyers could provide sheer pace bowling to worry the West Indies. I hope.
Drugs In Sport: Chambers, Rusedski, Warne
British athlete Dwain Chambers, the reigning European 100 metres champion, has been suspended for two years after testing positive for THG. He has appealed to the Court of Arbitration for Sport but, if the guilty verdict is not overturned, he will never again run in the Olympics for Britain, under British Olympic Committee rules. And apparently he might take up a career in American Football2. Hmm.
Meanwhile, Canadian-born British number 2 tennis player Greg Rusedski is still waiting to hear the decision of the tribunal investigating his failed test for Nandrolone.
Australian cricketer Shane Warne was recalled to the National cricket squad just eleven days after his suspension for taking a banned diuretic ended.
Oh, and back on THG, the US Grand Jury investigation into it has been told by Athlete Marion Jones and bulky Baseball home-run machine Barry Bonds that they have nothing to do with it. Time will tell.
Manchester United v Leeds by Psycorps
Twenty three years. That's two and a bit decades, or roughly 8404 days. In football that's a long time, and it's been twenty-three years since Leeds United last beat Manchester United at Old Trafford.

The omens aren't good, Leeds started Saturday 21st February second from bottom in the Premiership with Manyoo second from the top. Manyoo have lost 5 games all season which, interestingly, is how many games Leeds have won. Manyoo have won nine and lost two at Old Trafford all season while Leeds have won two and lost nine away from Elland Road. Also, Leeds' goalkeeper Paul Robinson serves a one match suspension, and in-form striker Mark Viduka is suspended by the Australian Soccer Association for failing to travel to Venezuela for a meaningless friendly. Fans and pundits alike expect this to be an easy game for the Reds, and even the most optimistic of Whites fans are considering anything less than a 3-0 defecit a moral victory.

The first surprise of the afternoon came at 12 noon with an impeccably observed silence for the Leeds legend John Charles, who had passed away in the early hours of the morning. This surprise is generally due to the fact that the primary weapons in the opposing fans arsenals are jibes about the Munich Air Disaster and the Tragedy in Istanbul, where Manyoo players and Leeds fans respectively lost their lives. In fact, there were no renditions of 'Who's that dying on the runway...?' or 'Always look out for Turks carrying knives...' all afternoon, with the banter coming from Leeds' precarious league position and the boardroom clash behind the scenes at Old Trafford.

As soon as the match kicked off, the 60,000+ home fans were drowned out by the travelling Leeds fans while, on the pitch, Leeds started their frustration tactics which meant, although Manyoo had the majority of the possession, they were limited to long range shots which flashed wide, accompanied by increasingly theatrical saves by Leeds' 18 year old reserve 'keeper Scott Carson. However there was a feeling that sooner or later the deadlock would be broken by the home side, especially when Ruud Van Nistlerooy managed to miss an easy header. Leeds did have their moments, with Seth Johnson beginning to control the midfield, causing Sir Alex Ferguson to replace Kleberson with Roy Keane, who was taunted by Leeds fans with shouts of 'One Alfie Haaland!' and 'One Mick McCarthy3'!

Just after the hour mark, Carson failed to hold a cross and the ball spilled to Paul Scholes, who hammered the ball home to put Manyoo a goal to the good. For the first time all afternoon, the home fans drowned out the travelling support, but only for a minute, because Leeds fans have developed some grit this season, and soon spurred the Whites onto the attack. Two minutes later Rothwell-born Alan Smith headed home the equaliser and the fans were rewarded. Leeds frustrated the play again for the next twenty-three minutes, and eventually, the final whistle was blown to award Leeds a hard earned point, and even more satisfactorily, deny Manyoo two, leaving them seven points adrift of the title-chasing Arsenal. Unfortunately, results elsewhere left Leeds bottom on goal difference, and there's still a lot of hard work to be done if Leeds are going to beat the drop.
SEVERAL A/K/A RANDOM's 'sporting blues'
And now lets see what Sveral's musings on the US sporting scene are.
I have little to report of any interest this week. Major League baseball's Spring training started. They played basketball and hockey. I still haven't opened my swimsuit edition of sports illustrated. I can stare out my window at 20-some miles of ice on Lake Erie. I have a Mardi Gras party to go to tonight. My answering machine is blinking repeatedly.
HAVE YOUR SAY
If you would like to report, opine or rant on matters sporting as Several, Psycorps and I do here, then just drop me a line at my personal space, or comment below. Also comment below if you would like any elaboration or further explanation of any of this week's stories. .
Egon

with Several a.k.a. Random 


Guest writer Psycorps
1The first two being Everton and Cowdenbeath.
2The NFL only bans players for four weeks for a first failed steroid test.
3Mick McCarthy sent Keane home from the Irish 202 World Cup Squad, prompting Keane to retire from international football, while Haaland's career was wrecked by a tackle from Keane, which Keane described as 'deliberate' in his autobiography, saying he intended to injure Haaland. When his book came out, the FA suspended Keane for 'bringing the game into disrepute'.