The h2g2 Poem
Created | Updated Oct 31, 2007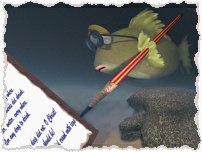 Friends

Do you sometimes ponder

'What happened if...'

Letting your mind wander

To the edge of a cliff?

Some days I'm overcome with fears,

I'm insecure and all in tears.

I feel alone, unloved by all;

Off the cliff I seem to fall.

But I am lucky, I have friends.

They cheer me up, my sadness ends.

They create smileys, write me rhymes,

Are there for me throughout all times,

Don't let me down, prevent my fall;

To them I say: I thank you all!