Swivs Travels: Uganda 2003 - Part Thirteen
Created | Updated Dec 19, 2003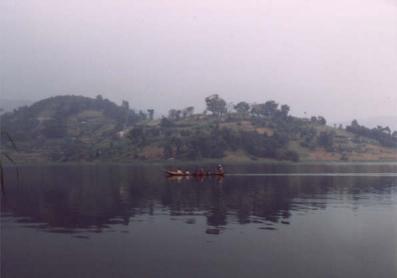 We planned to spend three nights at Visitours and take one day trip to Lake Bunyoni and another to Kamuronko to say a final goodbye. On the first night we nearly managed to get our towels stolen. We'd done a huge pile of washing and decorated our room with it, and therefore had nowhere to hang our towels once we'd showered. Looking at our towels you'd never think that anyone would want to steal them - mine's been on every trip I've been on in the past five years - so we hung them over the chairs in the little sitting area outside our room. When we returned to our room after dinner I noticed something:
Me: *drumming fingers on the chair on which our towels had been hanging* 'Fi!'

Fiona: 'What?' *looking blankly* 'What?' *still staring* 'Wha - oh. But it's not my towel!'

There was someone in the bathroom, so we thought we'd wait to see if he had borrowed the towels. I put Fi in the chair opposite the door on the grounds that she can glare better than I can. She was doing very well, until the door opened, then childhood training kicked in, and she was unfeignedly polite.
Fiona: 'Excuse Me?'

Guy leaving bathroom: 'Yes?'

Fiona: 'That's my towel.'

Guy: 'Oh...' *pause* 'sorry.' *handing towel back*

Fiona: 'There was another one on that chair. Have you seen it?'

Guy: 'Someone has already taken it.'

Fiona: 'Oh. Right, well, if you see it could you say that we'd like it back.'

Exeunt
In the end I came across my towel in one of the other sitting areas, and promptly swiped it back in order to give it a good washing.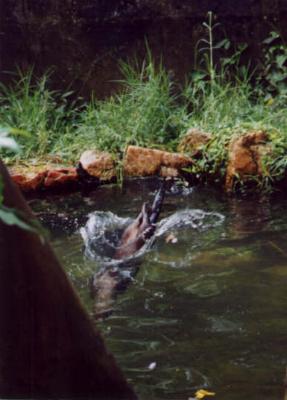 We decided to go out to Lake Bunyoni the next day as we didn't feel up to dealing with the public transport required to get to Kamuronko. We got Jackson to take us there, to his immense pleasure, and arranged for him to come and pick us up later that afternoon. We then arranged for a dugout canoe to take us from the lakeside out to Bushara Island, where there is a beautiful tented camp and restaurant run by the Church of Uganda. The guidebook compared Lake Bunyoni and its surrounds to Hobbiton. This was before the films of The Lord of the Rings came out of course, but it didn't look like how I'd imagined Hobbiton back then either. In fact, it looks like the rest of the Kabale area, lots of hills with scattered villages and fields, just with a lake in the valley, and stunningly beautiful. It's because the lake simply fills the valley that Bunyoni is the deepest lake in Uganda and hasn't been inhabited by crocodiles, hippopotami or bilharzia. It's therefore safe for swimming - although after passing several otters on the way to the island it seemed a distinct possibility that my toes might get nibbled.
We were paddled out to the island by one of the canoeists from the Lake Bunyoni Overland Camp. You can hire dugouts, but it's quite a long way to the island, and with us being two girls prone to fits of the giggles and with cameras to nurse, we decided that it would be far safer - not to mention quicker - to let someone practised take us there. This was our day for spoiling ourselves. We spent most of it sprawled in comfortable chairs in the restaurant bird-spotting and deciding what ridiculously nice food we wanted for lunch. By Ugandan standards it was an expensive place to spend too long at but, like I said, we had determined to spoil ourselves and not hoard our remaining tourist dollars for the Kampala craft market.
At some point in the afternoon I happened to mention that I'd noticed that it was $35/night for full board in a luxury safari tent and boats out to the island and that I thought it was quite a good deal. Fi asked how much it was just for a tent for the night - she and her Gap year group had stayed before, but she couldn't remember. I said I hadn't noticed, and went to look. $17 for the tent. We looked each other. Neither of us, much as we would have loved to be, were up for going out to Kamuronko on matatus and boda-bodas the next day. We were very much ready to wind down and get ready to go home, where both of us had a jam-packed couple of weeks to look forward to.
I can't remember who suggested it first, but one of us said it: 'We could stay.' There followed a lightening quick analysis of the situation. We had everything of value with us. The room in Visitours was pretty secure, and was cheap enough for us to pay for a night that we didn't spend in it. I had my glasses, Fiona had her anti-malarial tablets. We didn't have any toothpaste, which made Fi squeal very loudly (it's always the very first thing she packs), but I did have two pieces of chewing gum which would suffice. We had no jumpers, but we each had a length of Kitengi material which we used to keep the dust out whilst travelling and were planning to use as towels, they were swiftly converted into shawls. We checked that there was a tent we could have, and arranged to have messages sent by radio to the Overland Camp to rearrange our canoe and to ask them to send Jackson a message. Then we settled down to enjoy ourselves.
We swam, we played Trivial Pursuit - the American edition, so I couldn't answer any of the history questions but all the entertainment ones since the answer always seemed to be Marlon Brando, we ate even more good food, we toasted marshmallows on the bonfire and the only thing that stopped us from star-gazing was the cloudy sky. We also took a ridiculously large numbers of photos of pretty birds, and then sat down with the island's bird book to try and identify them. At this we proved spectacularly inept - I had to hand my photos over to my mother on my return home and get her to identify them for me. It made quite a long list, but we particularly enjoyed the kingfishers, the sunbirds and the crested mousebird - purely because it had such a wonderful name! By the time we returned to Kabale we were thoroughly relaxed
and ready to face the long bus journey to Kampala.