Doghouse Tails
Created | Updated Dec 11, 2003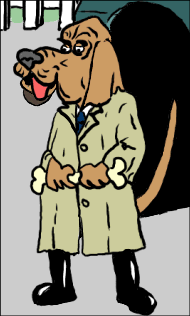 HOW R U DUIN?
Dear God it even texts Northern. Who's idea was this 'let's keep in contact while we get ready for the party' anyway? It's all right for Mirabell she's already safely ensconced in the big house doing her sound check and making up half the guests. And how unfair or what? She's wearing a costume that she made when she was sixteen. How can she possibly fit into a costume she made when she was sixteen? It borders on the obscene; she's a good bit more than double that age now. Stunning, talented and a middle age spread bypass, I really have appalling taste in friends.
*I LOOK LIKE A B****Y PANDA OK? AND I'M NOT DOING THE CHER WIG OR THE S***ING FALSE EYELASHES... IT'S TAKEN ME HALF AN HOUR TO PUT THREE SETS OF LENSES IN. ONE'S STUCK ON THE KETTLE, THE CAT'S EATEN ANOTHER AND I THINK I'VE PUT THEM IN THE WRONG EYES... I CAN'T EVEN READ YOUR TEXT.*
Aaargh! Nasty! When did those pores get that big? Perhaps a magnification twenty-five mirror wasn't such a good idea. And how did I let the trollop Trudi talk me into spending a king's ransom in the chemist? False eye lashes, false nails, liquid eyeliner that has managed to dribble its way down my nose. What did she say I had to do next? Ah yes a bold swipe of the black kohl. Oh most fetching I look like Danny La Rue.
'Aren't you ready yet? You and Sophie are supposed to be at Ahmed's by seven. His wife is waiting to dress you.'
'All right! Five minutes OK?'
What is it with boys? Doesn't he understand that some of us need a bit more help than does Sophie his stunning soubrette?
What exactly am I going to be dressed in? It's all right for Sophie; she's got a sari. All they have to do is wrap her almost perfect physique in swathes of magenta silk. Perhaps they'll have a spare marquee handy? I wonder what colour they have in store for me? Fancy asking me what colour I would like to wear... I only do shades of black... I thought there were only shades of black.
As for the ridiculous sandals Mirabell made me buy.
'Eee they're beeutifool. Dead sexy, ya'af to af 'em.'
Having them and wearing them are entirely different concepts Mirabell my dear. Having them is delicious. Dainty delights nestling in tantalising tissue. Wearing them is a task better suited to another... a much younger other. The stunted chipolata at the end of my feet that pass themselves off as toes will slip out of the strappy bits and squelch web-like across the floor. And how the hell am I going to do the straps up if I put the false nails on? Perhaps I could just wear trainers? Oh no another text.
*YOU OK TROLLOP? IM DRINKING 2ND G OF W. KIDS FED, MAKE UP DREADFUL I LOOK MORE LIKE A CLOWN THAN A GEISHA GIRL... OK GIRL'S PUSHING IT, PERHAPS I COULD BE THE MADAM. DO THEY HAVE GEISHA MADAMS? HOW LONG ARE YOU GOING TO BE?*
'We have to go, Bid.'
Nice when the offsprung refer to you as 'Bid' such a confidence booster.
*HOW AM I GOING TO DO UP MY SANDALS WITH FALSE NAILS ON OH PERSONAL STYLE B****Y GURU?*
*LEAVE THE NAILS I'LL PUT THEM ON FOR YOU WHEN YOU PICK ME UP. ARE YOU DRESSED YET?*
'Bid!'
*Flight of the bumblebee*
'Ignore it.'
'I can't. Hello Arse what do you want?'
'Well that's nice I must say! I phone to wish you a fabulous evening and to see if you are dressed yet and you call me an arse. You really are an old witch! I don't know why I bother. What are you wearing? Is it beautiful?'
'Rather glamorous bleached work clothes at the moment Patrick, we're running late and the offsprung is making the most unpleasant noises, reminds me of when he was little and about to throw up, you know that jet propelled temperature induced hits everything in its path line in vomit?'
'You're not even dressed yet? Oh for heaven's sake you are hopeless! Just do exactly what the boy tells you to do. Your poor family how ever did they manage to turn into reasonable human beings with a mother like you?'
'I don't want to go. I can't do posh!'
'Of course you can. You'll have a wonderful time. I'll see you tomorrow, now go!'
~~~~~~~~~~~~~~~~~~~~~~~
'Morning! I haven't stopped! I've been so busy. Uh oh I'll put the kettle on you look like death warmed up. I take it it was a good party then? Where's your car by the way?'
Patrick can be maliciously cheerful in the mornings.
'I Ieft it at the house.'
'This is the sari is it? Oh yes beautiful, we like that. You'll have to get it cleaned though, you really are a messy cow. What have you got on it?'
'Teriyaki sauce I think'.
'Oh good girl. You kept to the low calorie stuff then?'
'S*d off!'
'Your eyes are all red. You did the contact lens game again didn't you?'
'I'm fine with the contact lens game.'
Then why are your eyes red?'
'You try plucking contacts out with six inch talons at two o'clock in the morning when you're full of Singapore slings.'
*Brrrrrrrrrrr Brrrrrrrrr*
*Brrrrrrrrrrr Brrrrrrrrr*
'Well aren't you going to answer it?'
*Brrrrrrrrrrr Brrrrrrrrr*
*Brrrrrrrrrrr Brrrrrrrrr*
'Hello... No, of course it is not! Do I sound like her? It's Patrick. Oh hello Trudi... yes I know. I've spoken to everyone already this morning. The house looked fabulous - five hundred floating candles in the swimming pool and a hundred huge monstera leaves. The flowers were divine - God knows how, she's useless at her day job. Yes I heard, the youngsters skinny dipping in the pool at six thirty, the old cow had left by then. Just as well - that wouldn't have been a pretty sight... Yes and the rows... Well it was only a couple wasn't it? And no blood or anything... we like rows, it wouldn't be a proper party without at least one... No I know! Mirabell sang like an angel and looked divine, but not quite so divine as my Cleopatra. She is just the most beautiful, and camp Christopher behaved himself and didn't say anything to upset anyone. In fact Lady Diamond thought he was wonderful; he kept propelling her round the house with his arm entwined... well he's only after brownie points isn't he? And Lucy Diamond looked like a Madonna and had a lovely time and I heard all about you... trollop! But poor Malcolm hasn't even been to bed yet, his last guest didn't leave until 8.30...'
'Eight thirty? That's dreadful.'
'Uh oh! The old cow seems to be awake now. I'll speak to you later, byeee!'
'Eight thirty? That is so rude! Who on earth stayed till eight thirty?'
'Your son... Don't worry I've brought you some notepaper for the apology letter.