Television Reviews
Created | Updated Mar 22, 2007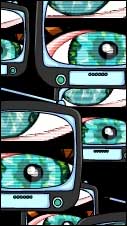 Show of the month is definitely Life on Mars (BBC One). This show never fails to astound me, but Episode Three (aired 6/3/2007) is the best of the lot. Dealing with the IRA: now that's what I call brave, and it does have a very modern resonance. A bomb scare leaves Manchester CID hunting down someone they think is connected to the IRA. The whole issue of 'instinct' comes back to the fore again, and has Sam trying to explain to the rest of Manchester CID why he knows it's not the IRA. The test-card girl — creepy beyond reason — mentions the idea, too. This reminds me of the first episode, in which Sam says there's no place for 'instinct' in policing.
The plot's very fast-paced and the writing's good as always. What particularly makes this episode stand out is John Simms' outstanding performance as Sam Tyler. The guy's always good, but you get a real sense of how confused he actually is and there's a beautiful character scene set in a church where Sam bares his soul. Life on Mars never shies away from showing the harsh reality of life for Sam, of life in 1973 but this week it really hits home.
Just a small complaint on my part: this episode was postponed because of the football last week. The BBC advertise this show no end and then start chopping and changing times/dates. Really, they need to get a sense of perspective.
I may know exactly what to make of Life on Mars, but I'm still a little unsure about Sky One's Dresden Files, though I think it's improving. 'Hair of the Dog' (aired 28/2/2007) did a little to convince me that this show's got potential. Sure, the storyline is hardly groundbreaking, with a series of murders being caused by, oh dear, a werewolf, and the special effects (though passable) are a little to obviously CGI. But where this episode does excel is the development of the lead character, Harry Dresden. They've got a good actor in Paul Blackthorne and if anything I think he carries the show. They've got the whole Philip Marlowe hard-boiled detective thing going on, which works, minus the unnecessary voiceovers. This show could go far, provided they shy away from the 'monster of the week' format.
A quick mention for the Stargate Atlantis episode 'Sunday'. The multi-layered narrative was interesting — really felt like a good character-building episode. It's not often that we get to see the Stargate casts just kick back and relax. It's got a bit of a sting in the tail though with the exit of Doctor Carson Becket, admittedly handled quite well. I was quite sad to see him go. For a series that tends to vary in quality, this episode sticks out. I know that a lot of fans are quite angry at how the characters are being treated and I do have to agree.
Another special mention goes to Channel Four's Ugly Betty. I was convinced when the trailers started for this that I was going to hate it. It could have so easily gone wrong, except it didn't. They've created a funny, not so much laugh-out-loud but quirky show with heart. Betty is a really endearing central character surrounded by a funny and off-beat central cast. It's brilliant, pure and simple.
I'm now issuing a spoiler warning for everyone who watches Battlestar Galactica in the UK and some people in the US.
Battlestar Galactica is Sky One's killer show. It's got absolutely everything that a genre show needs: great actors, brilliant writing and a lot of drama. One of the things that really makes it tick is Starbuck. Sadly, though ,actress Kattie Sacoff has made her exit with not much chance of her character coming back. I just want to say what a brilliant actress she is and that I'm rather sad to lose one of the most complex and humane characters on television.
Red Nose Day
Regardless of what you think of Comic Relief, you've got to approach it with a sense of fun. After all, it is for charity.
I really enjoyed David Tennant's appearance. (Me? Obsessed with Doctor Who? Never.) Generally Doctor Who fans cringe at any comedy sketches involving the show, but I quite liked it, mainly because it didn't mock anything. I'm not a huge fan of Catharine Tate as a comedian, but parts made me smile. Originally just playing on the fact that David Tennant was Scottish annoyed me — being Scottish myself, I found it quite unnecessary. The sketch won me over, though, mainly because it was quite well thought through.
It was the exact opposite for the Little Britain sketches, though. I really don't like that show and don't find it funny. I understand everyone's got their own sense of humour, but Little Britain just doesn't do it for me.
One of the things that really touched me, though, was Ant and Decs's appeal. They seemed generally moved and actually looked like they cared. A far cry from some of the shameless self-promotion that can turn up on these things. Yes, I'm looking at you, Chris Evans. I personally think the only reason he showed up on there was because he wants to restart his carrier.
I gave up on Celebrity Fame Academy very early in the run. I'm not a huge reality TV fan, so it never really appealed to me. For those of you who care, though, Tara Palmer-Tomkinson went home the winner and the show made a huge £780,000 for Comic Relief. You've got to look on it kindly for that! I did find it rather ironic that red noses had been banned from the Academy, though.
A special guest spot by Simon Pegg amused me greatly, I love that guy. Between him and Nick Frost you're guaranteed a laugh. Highly inappropriate, but that was half the fun. A real highlight of the evening. Pity it was on so late, but considering the content it does make sense.
All in all though it wasn't a bad night, with some good points. I suppose in the end, though, it doesn't really matter. The important thing is that the British public chipped in and so far (last I checked) Comic Relief made £40,236,142. That's a lot of cash. I suppose I should do my part, though, and encourage you to chip in. After all, it is for a good cause — oh, and if you're wondering, I've already donated!
That's me signing off for this month, but I Just want to add that if anyone out there agrees or disagrees, please do get in touch!