Swivs Travels: Uganda 2003 - Part Ten
Created | Updated Nov 26, 2003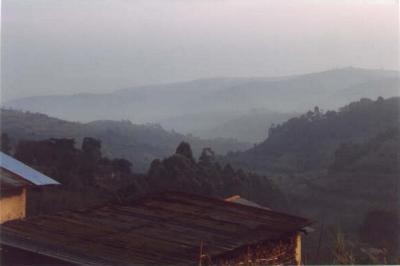 Those of you who have been around and reading the Post for the last three years may remember that in 2000 I took myself off to Africa for the second half of my Gap year. This year I returned.
Wandering around Kigali it was quite obvious that election campaigning was underway. However, you would never have guessed that there was more than one candidate. Paul Kagame was inescapable. He was the incumbent president, the man who had led the Rwandan Patriotic Front to power, stopping the genocide in 1994. He was re-elected the day after we left with over 90% of the vote.
Don't get me wrong, Kagame is obviously hugely popular, and Rwanda has been rebuilding itself amazingly. But Kagame and his party are quite swift to accuse their political enemies of trying to reopen the Hutu/Tutsi divide, and there was no evidence on the streets of the other presidential candidates. However, whether there was any 'fixing' or discouragement of the other candidates involved or not, it is likely that Kagame would still have won re-election - and whilst there we saw no violence or evidence of discontent.
The day after our arrival in Kigali we went to visit one of Rwanda's
genocide memorials. These are scattered around the country - often churches, many buildings left as they were at the end of the genocide. We headed out to Nyamata - about 30km south of Kigali - to a church where around 10,000 people had died. It was a sobering day.
We travelled out on a crammed bus from Kigali along a hideously potholed murram road, through scenery that got ever more stunning the further from the city we travelled. We got off the bus too early - my fault as usual, and I was technically 'in charge' of our travels in Rwanda - when I saw a church signposted 'Nyamata'. It turned out the town itself, and the memorial were about a kilometre further along the road.
We were 'found' by a student, Gilles, who offered to show us the way to the memorial. Both Fiona and myself were slightly sceptical about this, we reckoned we could find the way ourselves - there was only one road after all, and Fi had what she could remember of her GCSE French - and we didn't really want to pay for an escort. We ended up thoroughly grateful for Gilles, and more than a little shamed. As the only mzungu for a good distance it was more than useful to have an escort through Nyamata, and he was a wonderful guide, and our first experience of the joy the Rwandan people take in their tourists.
Between Gilles English, which he kept apologizing for, and our French, which was so much worse than his English that it was risible, we were given a personalised guided tour of Nyamata Catholic Church - the memorial. A low, brick building, with a flat roof, the church has been left untouched. The doors are still torn open, windows are smashed, benches are ripped up and there are holes in the corrugated iron roof, which look like they are from bullets. 10,000 people took refuge in the church when the genocide began, and the killers, unable to get into the building, threw in grenades. It was the impact from the grenades that caused the holes in the roof.
Nyamata have remains from the atrocities on display at the memorial. When you enter the church there is a small room on the left, that is piled with skulls, bones and rags, at least two foot deep. In the crypt under the church, and in underground chambers outside there are more skulls and bones, bearing their scars, arranged for display. The latter are particularly overwhelming. The crypt, although it houses the coffin of a pregnant woman who was killed, was far more sanitised - a cool white area, with only a few remnants on display. To see the chambers, you go down steps from out of the blazing sunlight, and are faced with shelves arraigned with skulls in neat lines, and bones spread out in the gloom. I was coping alright until then, but the mustiness of the chambers suddenly made me feel sick.
After the massacre in the church, Gilles and the other guide told us, about another 10,000 people from the surrounding area were rounded up at the church and slaughtered. The church is set back from the town, a very peaceful place today, and it is hard to imagine the terror that occurred.
As we were leaving, Gilles told us that his parents and his friend had been killed there. Even though nearly 10 years have gone by, and Rwanda has come to terms with its past in a remarkable manner, his matter-of-factness stunned me. It is very odd to be in a country where everyone over the age of 12 must surely remember something of the genocide, and almost certainly have lost someone close to them - so often I forgot about it, and then have it brought home to me sharply.
Everywhere we went in Uganda and Rwanda we met people who wanted things - particularly money for school fees or medical treatment. Yet none of them, with the exception of the street kids of Kigali, were Rwandan. Gilles had been orphaned in the genocide, and was still at school, and yet he wanted nothing but to show us a part of his country.