Sporting With Egon
Created | Updated Mar 19, 2004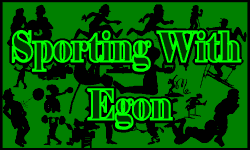 Returning from flu and chronic laziness, Egon gamely has a crack at writing some form of sport column, while Several does his usual immaculate American thang. Only with college sport.
Rugby World Cup
Well, the Rugby World Cup final will be played this Sunday between England, who have made it this far thanks to the unerring accuracy of Jonny Wilkinson's kicking, and hosts Australia. Whenever Australia meet England at any sport, it tends to be hard fought, exciting, and an Australian victory. But this time the English are favourites. oh yes. I'm not a big Rugby fan but have been slightly captivated by this competition despite not really understanding it.
Apparently, the South African players were subjected to a boot camp which saw them putting up with all sorts of 'orrible things like being dropped from helicopters, thrown into ditches full of mud and having to do assault courses, most of that naked (Ah, nice to see some aspects of the Rugby psyche never change). In fact, maybe they were all so pissed off at the boot camp that that's why they lost in the Quarter Finals.
Anyway, you can read more about Rugby elsewhere in this week's Post, thanks to Red Kite in the Ruck an excellent column which covers Rugby Union including the World Cup, and I believe Intern will have one of his Rugby League reports as Great Britain lose a series at home to Australia. All worth reading, I'm sure.
Football: European Championship Qualifying Playoffs
You may remember that a while back I babbled on at length about the qualification for Euro 2004, the European football Championships which will take place in Portugal next Summer. So far, 11 teams have qualified. The remaining five places will be filled by the winners of the playoffs which had the first legs played last Saturday, and the second legs on Wednesday - so by the time this entry is up, you will probably know the results. At the time of writing however, I didn't. So what follows applies to the first legs.
First of all, the eleven teams already going to Portugal are: Portugal, France, Denmark, Czech Republic, Sweden, Germany, Greece, England, Bulgaria, Italy and Switzerland.
Two of the playoffs feature teams from the United Kingdom. Wales secured a battling 0-0 draw in their first leg against Russia in Moscow. Ryan Giggs was involved in a spot of controversy as he was accused of elbowing a Russian player who had been guilty of a dangerous tackle on Giggs. The Welsh will be hoping that on Wednesday they secure (secured by the time you read this) a home win to go through
The Scots surprised lots of people, including myself and Master B, as we sneaked furtive glances at the big screen in the Old Silk Mill pub in Derby, where we were attending the East Midlands Mini Meet, by beating Holland 1-0 in the first leg. (That's Scotland who beat Holland, not me and Master B, in case I've confused you with my tangent). Everton forward James McFadden scored a fine goal, set up expertly by young Manchester United midfielder Darren Fletcher, as Scotland go (or went) to the Amsterdam ArenA (in this case the spurious capital is actually how the ground is named, rather than my bad typing) with the adavantage. Also, the Dutch have been sulking, arguing, bitching, drinking and, in the case of Andy van der Meyde, fainting, in advance of the second leg1.
In the other first leg playoff games, Latvia gained a surprise 1-0 home win over Turkey, who finished third in last summer's World Cup and second behind England in their qualifying group, Slovenia held Croatia to a 1-1 draw, and Spain won 2-1 against Norway.
Dwain Chambers fails drugs test: Update
The last time I actually wrote a column, my lead story was that Dwain Chambers had failed a drugs test. Well, the British sprinter has failed both A and B samples, is suspended pending a disciplinary hearing, and is facing a minimum two year ban, and an expected life ban from the GB Olympics team. If he is found to have collaborated with others in the growing 'THG'2 scandal, he could be banned from competitive track and field for life.
An investigation into THG's use in the US and Victor Conte's company 'Balco', which specialises in health supplements for athletes, appears to be having some high profile fingers (not least those of Chambers' legal team) pointed at it. Conte denies any wrongdoing.
The English Football Association...
... is gettting rather farcical. In addition to the continuing unavailabilty of Rio Ferdinand for England selection while the FA decides what punishment to give him for missing his drugs test, there was a bit of a palaver over the recently named England squad which ended up losing 3-2 to Denmark at Old Trafford. I shall now attempt to sum up said palaver:
Michael Owen unavailable with injury
England pick a squad with just three strikers - Wayne Rooney, Emile Heskey and Darius Vassell
England leave out James Beatie and Alan Smith
England manager Sven Goran Eriksson defends his decision to leave Beattie out.
Rooney gets flu, misses Everton match, recovers in time for England game
Vassell gets injured in pointless midweek Aston Villa friendly (as opposed to pointless England weekend friendly). Pulls out of England Squad
Alan Smith gets arrested by Yorkshire police with regards to his allegedly throwing a bottle into the crowd during a match
Alan Smith gets called up to England squad in place of Vassell
Fa find out about Alan Smith's arrest
Alan Smith dropped
James Beattie gets called up after all.
Rooney is the only striker top score for England in 3-2 defeat
Sven-Goran Eriksson has a pop at his employers, the FA, and the press point out that Beattie has a conviction for drunk driving.
Cricket: England in Sri Lanka
The English cricket team, having beaten Bangladesh quite convincingly, were reminded just how bad Bangladesh are when they apparently took the same mindset into the first one day international with Sri Lanka in Dambulla. England were all out for 88, their second lowest limited overs score ever, and somehow manged to take 46 overs to score them before being put out of their misery. Paul Collingwood was the only England player to get a decent score, but his 31 came off 96 balls, an appalingly slow pace for one day cricket. The English batsmen could offer absolutely no reply.
SEVERAL A/K/A RANDOM's 'sporting blues'
He's had the column to himself for the last two weeks, but I'm shunting him lower down again on my return. It's time for the regular stateside reportage from Several a/k/a Random:
Hi folks, me again with American sports and no real screaming headlines, just Amfoot fever in North America, from the high schools on up. Friday nights are the scholastic playoffs in each state, Saturdays are college football and Sundays gear up to the pro game. Nearly sliding in under the media radar was the annual Grey Cup Canadian football championship that settles their season long before it gets REAL COLD up north, a 34-22 victory by the Edmonton Eskimos over the Montreal Alouettes with NONE of the hype surrounding America's Super Bowl, or even the college games.

And that's the first place to start. The unbeaten Oklahoma Sooners (in history Oklahoma was to be settled by whoever staked out their claim of land first, and some folks jumped the gun by days and got the best property, as in we wuz here sooner) stand poised as the number one college team, with only percentage points separating #2, the Ohio State Buckeyes (the buckeye is a hard nut, nearly inedible, and somehow Ohio's state tree) and the #3 University of Southern California (USC)Trojans (named after the trojan house, NOT the condom, altho' their rivals often call them the rubberheads and worse) for the 'championship' game on New Year's Day. Beloved Ohio State is the defending national champion and Saturday faces archrival Michigan (in their 100th such season-ending game) while USC faces their archrival, the University of California at Los Angeles (UCLA.)

On the professional level, three of last week's four 'featured' games turned out to be pivotal and a fifth game, much hyped by the general media and not mentioned in this space was a complete and utter dud. The unbeaten Kansas City Chiefs fell from those ranks by losing to the surprising Cincinnati Bengals 24-19 while Carolina, Indianapolis and Tennessee each won to advance to 8-2 with six games left in the season. KC, now 9-1, just never put together their vaunted offensive display, held without a touchdown until the final seven minutes of play by a renewed Bengal defense under new head coach Marvin Lewis.

The Washington-at-Carolina game ended with the 8-2 Panthers on top 20-17 with a late touchdown while the 8-2 Indy Colts outslugged the Noo Yawk Jets 38-31 in a huge display of offense. Tennesee stayed even with the Colts in the American South division with a boring 10-3 desision over Jacksonville. The media-hyped Dallas-New England game put me to sleep, a 12-0 yawner late Sunday night, won by the 7-3 Patriots, dropping the Cowboys to 7-3.

This week's schedule is more interesting, with National West leaders Seattle and St Louis on the road to Baltimore (co-leader in the American North) and Arizona, respectively. Other games to keep an eye on would especially be Carolina at Dallas (8-2 at 7-3) and New Orleans (5-5) at 7-3 Philadelphia plus two rivalry games, the second featuring the Oakland Raiders (3-7) at Kansas City. Well do I recall the battles those two teams put on in the late '60's and into the '70's as the teevee networks were discovering 'hype' coast-to-coast. The first rivalry game will be played on the hallowed grounds of Cleveland Browns Stadium as the black-and-gold clad Pittsburgh Squealers travel three hours up the interstate. Now there's two teams where the fans REALLY get involved, from long before teevee networks.

And one quick baseball note: the Kansas City Royals may not have won their own division, but their manager, Tony Pena, and shortstop Angel Berroa were named Manager and Rookie of the Year, respectively in the American League. Berroa's selection was somewhat surprising as he earned the honor over Noo Yawk Yanker outfielder Hideki Matsui, an eight-year veteran of the Japanese pro league. Two electors purposely omitted Matsui's name from their ballots in an apparent protest over electing a Japanese veteran over a Latino true rookie for the honour.

And finally, if I may be allowed a personal note: while I will be rooting for Ohio State Saturday, I will also be remembering 40 years ago when the world was dressed in black and Americans gathered around our television sets, stunned, asking why. There is an eternal flame at Arlington National Cemetery, just down from the tomb of the Unknown Soldier, for John Fitzgerald Kennedy, surrounded by other brave men and women who served their nation in defending freedom.

The only other weekend there were no sporting events is all too recent, collected in bits and bytes and a war is still being fought over the events of 9/11, but for those of us who remember a weekend in 1963, no less stunning.
HAVE YOUR SAY
If you would like to report, opine or rant on matters sporting as I and Several do here, then just drop me a line at my personal space, or comment below. Also comment below if you would like any elaboration or further explanation of any of this week's stories. Anyway, farewell for now, and look out for my exciting new column, which I was planning to start some time ago, and which will be on it's way soon, I promise.
Egon

with Several a.k.a. Random 


1
Sorry guys - Holland won 6-0 and Wales lost 1-0 to Russia... ed
2tetrahydrogestrinone, the steroid Chambers tested positive for.